Of course I say... that I love teaching bible to my kids. The bible is such an exceptional book for teaching and sharing the love of our Lord. This great big book though can sometimes cause me to wonder... Where do I start? Well, why not from the beginning with Creation. Purposeful Design has this lovely hard bound book to help you understand creation. It is a nice supplemental book to use along with your bibles.

Purposeful Design- Understanding the Creation
by Jay Schabacker is a hard bound book valued- $18.95. The book is meant for all ages to be read.

I was so excited when I got my book to see that Jay had signed it. Nothing warmed my heart more. Thank you Jay Schabacker for taking the time to put such love and care into this book Purposeful Design Understanding the Creation.



This book is different than any other creation book I have encountered. It isn't just about the creation story but it takes you deeper. Helping you to see the glorious miracles right from God's hand. These things seem everyday to us because we wake to them and leave them in sleep each day but they are so worthy of our questions and attention. God is so awesome and powerful. Purposeful Design will help your child realize all that is around them.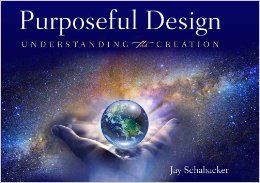 The Chapters Represented are as follows.
Chapter 1: The First Day: Creation of the Heavens and the Earth, The Foundation of it all
Chapter 2: The Second Day: Creation of the Atmosphere and Water
Chapter 3: The Third Day: Creation of the Dry Land and Vegetation
Chapter 4: The Fourth Day: Creation of the Sun, Moon, and Stars
Chapter 5: The Fifth Day: Creation of the Birds and Fish
Chapter 6: The Sixth Day: Creation of the Land Creatures and Humans
Chapter 7: The Seventh Day


Each chapter of the book takes you on the wonderful discovery of God's creation. For example in Chapter 1 you read the biblical account of the start of our world but then you look into how the Moon and stars orbit our earth. You learn how everything occurs to the second and no other could plan so well but our Lord and Creator. When you look at things like this your mind cannot fathom all that God is but you realize that you are a part of a greater unity than you can possibly understand.

In Chapter two we took a look at the water cycle, which by the way fit nicely into my third graders Science and literature unit. We have been studying the water cycle and then reading about it from a weather magazine. So we had another source to look at and a very different perspective then from a secular magazine.

Another match up in curriculum was from Chapter 3. We learn of the plants that grow on our earth and how each is made specifically for us. This one fit nicely with my preschoolers study on apples. You will take a closer look at an apple and learn how it is useful to you. Very interesting ,things I had never considered. We are given these things and we just enjoy them. We don't stop and think of their benefits. It just reminds me that we should stop and thank our Lord for all of our blessings.

Skipping around a little on the 5th Day God Created Birds of the air. Our study on animals and their biomes later matched this look at God's wonderful creation. I was pretty happy that so many of the chapters could be related to lessons that we were already doing.

You will also learn about the seasons, instincts of salmon, (I always found these fish fascinating) Cattle, Camels, and the amazing Human body. The chapter on the Human design would be a great precursor to a more intense study. It talks about the brain, skull, hair, ears, eye, mouth and nose.

And then on the Seventh day God rested. He modeled for us that our bodies need that day of rest. God wants us to rejuvenate our souls and sit in quiet worship with Him. It closes with Proverbs 19:21, Romans 8:28, Philippian's 2:12-13 and Ecclesiastes 8:17 and 12:13-14.


Along with this book you can head over to Purposeful Designs website to get your free study guide to go along with your book. It's called
Young Explorers Club
. You would be able to use this guide with Upper elementary and older. There are fill in the blank questions from the book to help you solidify the material. We did not use the explorers club although it is a nice additive. We are more hands on homeschoolers but I can see this being a wonderful resource for those that enjoy worksheets.

About Jay
I wanted to add here that I was impressed when reading about Jay Schabacker. I like to take a look at the writer of my children's books to make sure their beliefs align with ours. I was impressed by the fact that He in essence is a scientist but also maintains his faith. Sometimes not an easy thing. If you would like to read more about
Jay Schabacker
you can learn more on the website.



My thoughts on the BookWhat I liked the most about this book was that I could really relate this to my children. They were able to stop and smell the roses so to speak taking a good look at Gods design and it's purpose for our lives. The pictures in the book are attractive to children. I specifically enjoyed that I could relate parts of it to each of my children and even learned a good bit myself. Since we are hands on homeschoolers I did kind of wish there were some suggested hands on activities however, this momma is pretty creative so it didn't cause a big issue for me.


If you would like to connect in other ways with Purposeful design you can locate them...




Blog:
www.Jayschabacker.blogspot.com
Facebook:
https://www.facebook.com/JaySchabackerAuthor
Twitter:
www.Twitter.com/Jayschabacker
(@Jayschabacker)
If you would like to read more reviews click the graphic below...