It's time for some fun with Out of the Box Games and the Game Snake Oil Party Potion. Snake Oil Party Potion is a $14.99 Value. The kids love games ! It's just so fun to gather with the family and enjoy each others company. This particular game is for children ages 8 years and up. However I think younger children can play if the cards are read to them.

The party potion Game is a new add on to the snake oil family. It is a smaller game and more portable. You can play it alone or add it to the original game to make more card combinations.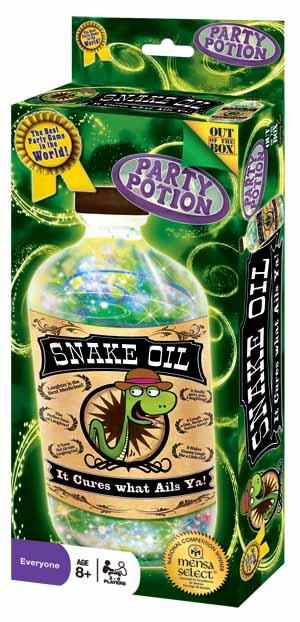 How to Play:

You will need 3-6 Players to play the game.

Each player receives 6 cards.
One of the players will need to be the customer. The customer in the game will choose a customer card and take on the role of the card. Such as caveman or maybe a clown.

The player then choose 2 word cards from their pile of 6 cards to create a product that the customer might like to purchase. The players have 30-40 seconds each to try to convince the customer to choose their product.

The play that the customer choses becomes the new customer and receives that persons customer card.
You can see who can collect the most customer cards by the end of the game. There are other variations of the game that you can try.

We played the Game and what a riot. The kids had a good time creating products. My kids are extremely creative and I just sat back and laughed.

What I liked out this game is that it has educational value without the kids even realizing it. They learn to speak clearly, creativity, innovation, and other verbal skills. Great fun for all of the family.

We absolutely love this game and I hope to add the original game to our game stash as well. I loved how it fit in with a wild west sort of theme and could be played along with this type of study for a fun additive.


If you would like to connect with Out of the Box.
You can on Facebook, Twitter, and Youtube.
https://www.facebook.com/OutoftheBoxGames
https://twitter.com/OTBgames
http://www.youtube.com/watch?v=lYAQiV5S9ZQ&feature=c4-overview&list=UUTEAg1uDVwq0LNxFAwM7N5Q
If you would like to read more reviews click the graphic below.

Warm Blessings

Nikki