What do you do when you get to High School and your not sure you can teach those higher education subjects? First don't let it scare you because you can do it. There are some really good resources out there on the market that can help you make it through and Fascinating Education is one of them.

Fascinating Education provides an online curriculum for Biology, Chemistry, and Physics. Typically for Middle school and High school students. It was

created by

Dr. Margulies. He uses colorful illustrations and video crossed with text to teach to the student.

The course is $79 for one full year. Get two courses for $125 or three courses for two years for $175.







My 12th grade daughter used Fascinating Chemistry with her studies and my 8th grade son used some of the videos to go along with his study that touches on his Chemistry. He didn't take any of the tests that went with it because I had it set up for his sister but he was able to view some of the videos and follow along nicely. Fascinating Chemistry is in plan English with out an excess amount of Science terminology, which makes it easier to learn.
We received our password via email and then opened our Chemistry course. Below is what you will see once you are in the Chemistry course. The headings are marked lessons but they really remind me of one unit. There are 18 lessons as indicated ...

Lesson 1: The Intermolecular Bond
Lesson 2: The Ionic Bond
Lesson 3: The Covalent Bond
Lesson 4: The Polar Covalent Bond
Lesson 5: The Metallic Bond, Part 1
Lesson 6: The Metallic Bond, Part 2
Lesson 7: Heat
Lesson 8: Air Pressure
Lesson 9: Properties of Water
Lesson 10: The Mole
Lesson 11: Gases
Lesson 12: Solutions
Lesson 13: Chemical Reactions
Lesson 14: Orbitals
Lesson 15: Electrochemistry
Lesson 16: Polymers
Lesson 17: The Nucleus
Lesson 18: Final Problems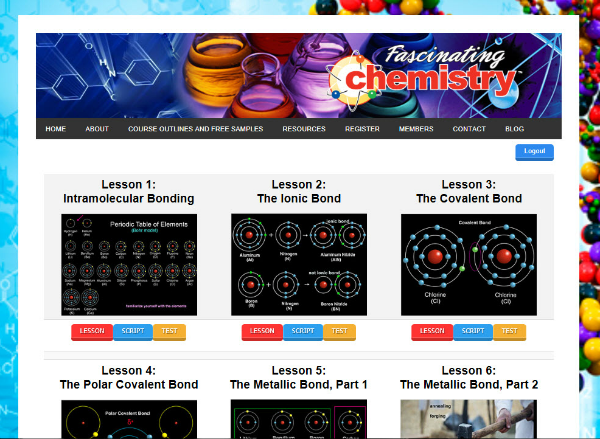 Under each lesson you have three choices. The Lesson tab will bring you to a page that looks something like the one below.
Each one of those links is a video that shares that topic. They are basic teaching videos that get right to the point. When one is complete you just click next and view the next one. Each topic is broken down into manageable chunks for easier learning. There is a tab with glossary terms and at the bottom special information about the elements. If you choose to click script then you will have a pdf file of the videos presented. I love this feature especially for my daughter because she is not an audio learner. She needs to read things herself. So following along with the script has been helpful for her learning. My son on the other hand is an audio leaner and does not need the pdf scripts when he studies.

The video lessons end with a video titled what we have learned so far. I like this it helps round out what you have learned and reminds you of key points.

Another option you have for that lesson is the test. The tests are laid out with question and answer options. You just click the circle to answer with the correct answers. You can easily see how many questions you have left to complete and can go back to any you aren't sure about.

The test results are easy to figure out. It shows you what you did wrong and what the correct answer is if you got any wrong. It lets you know if you need to study more or if you can move on.


The program allows you to stop and start and holds your place for the next time you begin again.
My thoughts:
The videos are easy to understand and rather simplistic in nature. There aren't the usual bells and whistles with typical video courses. However for my dyslexic child this worked fabulously when helping her understand the topics presented. I felt like we needed more along with it although the videos could stand alone as the curriculum.

There are labs along with the courses that are password protected for safety purposes. Several of them should be supervised by the parent. If you are not a science experiment sort of person you can skip them without much issue. Although the labs really do solidify what your child is learning and gives them that hands on learning many teens require.


Looking to the future of my sons academic career I can see us using this curriculum. He will just be beginning high school next year and will be in need of at least 2 of these courses. My daughter will graduate this year with another Science on her transcript.


If you would like to read more reviews from Fascinating Education click the graphic below.