In years past we have made the count down to Christmas memorable in several different ways. My favorite way has been reading a new Christmas story each day up until Christmas starting December 1. Over the years I have collected some treasures and I have collected a few fluff books too. If He Had Not Come is not one of those fluff books. It is perfect for putting the focus back on the reason for the season.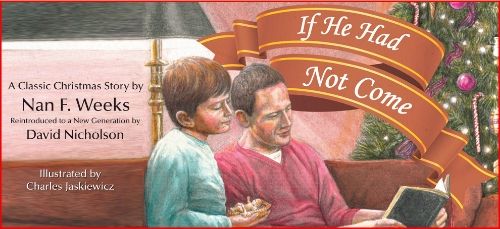 If He Had Not Come
is reintroduced by
David Nicholson
a 18.95 value for a hardbound book and $3.99 for the Ebook version. The book is in picture book style Illustrated by Charles Jaskiewicz.

This book is written for children ages 6 years and up. Although as the parent I would review the book first and make a decision about that based off of your knowledge of your own child.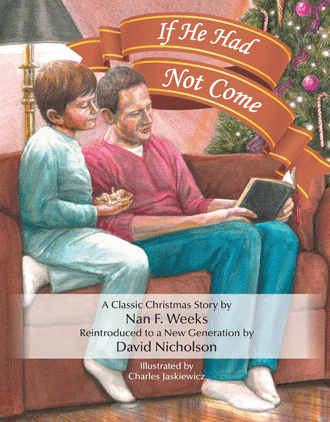 About the Story:

The story is about a young boy named Bobby who is excited to wake up Christmas morning and open all of his Christmas presents. Before he heads to bed on Christmas Eve his father opens his bible and reads from it. The verse there that reads "If I Had Not Come" stays in his mind as he heads off to bed.

When Bobby wakes up in the morning he races down the stairs only to find nothing... no tree, no parents , no gifts. He seeks out his family and tries to find them at work. Only to come across grouchy people with no spirit for our Lord and Savior. He is briskly sent on his way and he seeks other avenues of help only to be turned away each time with the people having no knowledge of Christ or Christmas.

He eventually comes across an elderly man needing medical attention. In his effort to seek help he is unable to find anyone willing to help. All the homes and shelters no long exist because people aren't willing to help without Jesus. Bobby is happy to find that it is all a terrible Dream. He wakes up less worried about his gifts and more focus on the Reason, Jesus Christ.


Secretly I suspect the world would be a lot worse than portrayed in this children's story but it gives the kids something to think about . Christmas isn't all about getting it is about Jesus' life and giving.


There is more than just a story.In the back of the book you will find resources to go along with your story.


Interactive Topics for families and Sunday school teachers - This section provides discussion questions that go along with the story. They are in chronological order so you can ask them as you read or come back to them at the end. This is one page in length.


Going Deeper- Takes you to the bible. It shares bible verses pertaining to some of the questions that are raised in the interactive topics section. This guide is also one page in length.

Gospel Message- Outlines the New testament message. (1 page)

Lastly there is a suggested crafty style activity in the very back.


My thoughts: I work as a Sunday school teacher and as I read this story I kept trying to seek the deeper meaning. I read this story to my 8 year old son and he picked up on it quickly. When the story was over I felt like there was so much more I could do with this story. Jesus was born to save us from our sins. His birth also sparks many charities and pushes people to want to do more and give more of themselves. As I read I kept thinking this would be a great book to use when introducing the Christmas Child boxes that our church sends to other countries.

This will definitely be a story we read again at Christmas time and will be a part of our days before Christmas story time. Our church this year on Christmas Eve will be hosting a Pajama party for our children and I thought this may be the story we read to the kids this year. So much to think about the night before his we celebrate His birth.


If you would like to read more reviews click the graphic below.

Warm Blessings,

Nikki