Recently I joined a Christian journaling community. This community has had me looking at scripture in a new way and has given me a new appreciation for my Bible. In this group several ladies brought up the activity of writing one complete bible in your own handwriting. The thought of that kind of intrigued me. Although it would take quite a long time I can't think of a better endeavor, savoring every written Word of our Lord and Savior. This desire to hover over His word made me more intrigued with the History of the Bible...



The Forbidden Book - The History of the English Bible
DVD a $19.95 Value was gifted to me by the Schoolhouse Review Team and New Liberty Videos.




This video is listed for a general viewing audience. However there are some images and topics that are more for the teen crowd. If you are interested in showing the video to younger children you might want to view it first and mark the time where you might like to skip a section as some pictures show diagrams of violence. Most of the topics would be over the elementary levels. Use your discretion.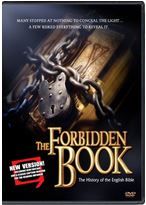 Both of my sons have been studying the bible and they have just moved on from the middle ages to the Renaissance time period. As a review we have been discussing how the Bible was written by hand by monks and other clergy to pass down God's word. My older son is 14 and I felt comfortable sharing this video with him . My younger son is 8 and I felt it was a bit more than he could handle. I myself was very interested in viewing it and learned a lot too.





The video is about an hour in length. There are two versions on the DVD. The first is the regular 58 minute video and the second has the words to the video printed at the bottom of the screen along with the 58 minute video. I wish I had known when I started it because I was taking notes off of the DVD. I could have paused it and known I was spelling things correctly handling it in this way. If you have your teens take notes for their portfolios I would suggest the version with the words at the bottom and the pause button.







Interesting Facts



In the 1300's the cost of a Bible was a priests one year wage.

The Bible is quoted 5,000 times by Shakespeare.

In 1663 the first Bible was Printed in America.

Robert Stevens separated the bible into verses

The bible has been a best Seller for 350 Years.






We begin or video learning that Moses is the first man to begin documenting God's word and from that time period till now there is not a single error in translation. Generation after generation God's word has been cared for and passed on. Many men died for it. I found it interesting that Christ died for our sins and yet such huge mistakes continued to go on directly after. Christ had Freed the people yet we entered the Dark Ages. His words they were trying to cover but God's light shined through. I thought to myself as I watched... What would be their motive? Why would these men of leadership want to keep His word from getting out? Our they afraid of goodness? Are they worried the people will be full of love and gentle in spirit? Nope ... They were focused on themselves. They feared they would lose their power. They feared their own sin. They were hiding it by hiding Him.





But his word could not be hidden. There were men that knew better and would fight the good fight, Many losing their lives. At this time there for 500 translations of the Bible but only the Latin version was allowed by the church. When I say THEY... I am referring to people who were running the church, who were supposed to be all for God. They were making a mockery of Christianity. Charging men money to have their sins absolved. Did they not learn anything from the death of Jesus. $1.75 to kill a man, $3.00 to commit robbery and so on. I have to add a fear here. They were afraid of losing their money too.




Lets take a short look at the 3 men who fought to have God's word written correctly.



John Wycliffe- A 14th century scholar translated the bible from Latin to English. He took out all the magic the church was doing and took the Bible for its words.




Martin Luther- In the 16th century he opposed the indulgences, the payment for sins. He began revealing the true nature of the scriptures. Luther feared God and wanted to do what is right.




William Tyndale- Translated the bible to English and went about distributing 500 of those bibles. He was hung and burned. Tyndale felt he was chosen by God to fight the good fight.





There are many more stories included in the DVD...
The church perpetuated fear instead of doing what it is meant to do which is support God's word and the people that seek Him out.



I am in awe over these men who hid Bibles, wrote them by candle light and gave their lives.



My thoughts:



I really enjoyed this DVD and hope to purchase more. I learned also about the Apocrypha ,which are 15 books of the bible that have been removed from our bible, for the last 100 years. Before that they were a part of the Bible. In fact King James insisted they be in the King James bible and even wrote a law making sure it was put in. I wanted to learn more about this because I never knew about these books. So I looked it up online and have been reading the missing books to decide for myself. Very good stuff !! There is so much more that that I didn't put in my review. I took 6 pages of notes and had to narrow it down for my review. My 14 year old was not as enthusiastic as I was but he now has this knowledge and the seed is planted. The Bible came a long way. God's word cannot be hidden. You can try but He will come on top.



If you would like to read more reviews on the Forbidden book and other DVD's like it click the graphic below.



Warm Blessings,

Nikki