Raise your hand if you have a preschooler! My girl is a preschooler. She is enjoying being with the rest of the family for her "school" time. It is not without challenges. If you are struggling to teach with preschoolers underfoot then lets talk about
Preschoolers and Peace.
Preschoolers and Peace is dedicated to helping the hurried mom manage her day before her preschooler manages her. Don't make that face you know we have all found ourselves being managed by our preschoolers. That moment when they are just running around causing chaos and you don't know what in the world your going to do with them next.


Well Preschooler and Peace wrote an e-book just for you called... Preschooler and Peace : Homeschooling older kids with success while loving the little ones at your feet (Ebook) - $2.99 Value.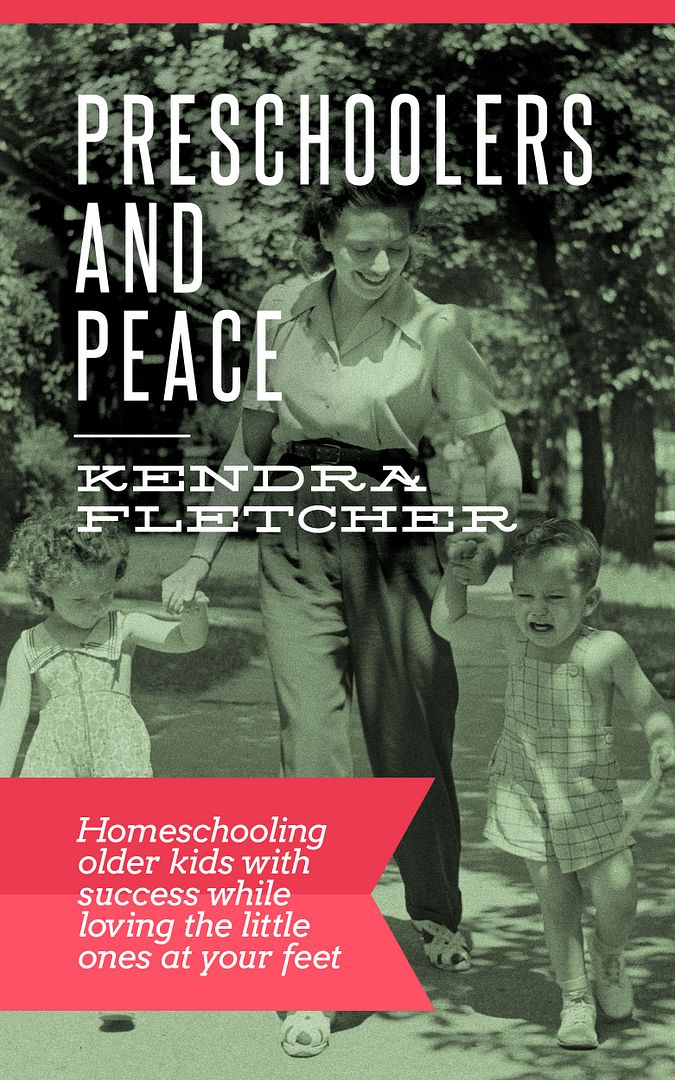 Preschoolers and Peace is about managing your preschoolers time while you are working with your older homeschoolers. It is not always an easy task because these little ones really desire our time.

The Very first thing you read in preschoolers and peace is about taking time for God and teaching our children to do the same thing. We have been homeschooling for 11 years now, and I have learned this the hard way. If I wake up hurried , tired and feeling rushed then my day never goes well. I know this . I can feel it as it is happening and I can't seem to make it stop. The only thing that I found changes my attitude and changes the way I think about my children and my world is when I enter in worship with my God. Consistency was hard at first but I found a way to create an accountability for myself. I loved the mention of our kids learning that consistency too.

I also enjoyed the section on Scheduling because I'm a schedule kind of girl. I have learned not to be a slave to my schedule. I write it but don't put times in the boxes beside the activity that happens. I have learned that with little ones it is best to make a plan but allow it to be moveable. Meaning if I have to take something out, something takes longer than I thought or is shorter than I thought. I can just move to the next thing. It is also good to have extra activities up your sleeve just In case. Preschoolers and Peace gave me many ideas just for creating activities for my young one so that our day runs a little bit smoother.

While reading Preschoolers and Peace, I realized one thing. My preschooler is growing up. She is definitely heading into being a Kindergartener. She has really matured in the last few weeks. She surprises me everyday. So as I read about putting toddlers in high chairs or seats with cheerios I became a bit nostalgic and hugged my preschooler closer. Oh they grow so fast don't they.

Even if you don't have a preschooler the last chapter on Menu planning will help any mom stay on track.
Here is a list of the chapters that you will read in this ebook.

Chapters:

What a Homeschooling Mom Needs
Preparing Yourself to Homeschool Older Kids With Little Ones Underfoot
Planning Around Preschoolers
How Do I Keep Them Busy?
What Does a 2-Year-Old's Day Look Like?
How Do I Get Any Preschooling Done?
How Not to Just Kill Time
Circle Time: Or How We Pull the Little Ones In
Preschool Boys
When All of Your Kiddos Are Preschoolers
Preschool Chores
Planning for Preschool
When Mama is Worn Out (or Pregnant)
Meal Planning 101



How I used the Ebook:
I really found myself skimming the ebook. Oh don't get me wrong there is a lot of great information there for a parent struggling with a preschooler but maybe I just wasn't struggling as much as I thought I was. It sure helped me to see that. I also realized that my girl is about heading out of that preschool stage. So some of the topics about high chairs and nap times didn't apply to us anymore. However I did find a nice list of ideas that we can use for our "school" time. I believe in a lot of play time but my girl believes in a lot of me time. Out of all 5 of my kids she is the most needy emotionally. I have taken some of the tips here and created a schedule that works for us. I have learned while I am doing instructional work to have her play with something to the side. Then while they are working on that we manage story time, games, crafts and other activities. The idea of rotating toys has helped us as well.



My thoughts on the Ebook:
I think this would be a good book for those with new preschoolers or who find themselves for the first time with school age children and preschoolers. It is a nice general guide to ways to manage your time . It is definitely at a good price. You can connect with preschoolers and peace on social media...


Facebook:
https://www.facebook.com/PreschoolersandPeace
Twitter:
https://twitter.com/KendraEFletcher
Pinterest:
http://www.pinterest.com/kenj/
Google+:
https://plus.google.com/+KendraFletcher/posts
You Tube:
https://www.youtube.com/user/preschoolersandpeace
You can read more reviews on Preschoolers and peace by clicking the Graphic blew...