Do you like to do read-a-louds in your home. The kids like when I do them but I sometimes struggle with finding books to read. We try to read at least 4 per year if not more, of course they read on their own beyond the read-a-louds as well. Audio books provides a nice change up for those story times. My voice gets a break and they get something new and exciting. They are really wonderful too when mom isn't feeling well. A teacher sick day activity.




Jim Hodges Audio Books
might fill what you are looking for in an audio. They make a wonderful addition to your history curriculum as well. Keep in mind that these aren't action style audios with music and the flash and bang. The words are the story. Honestly some of my kids have trouble with the flash and bang so I appreciate basic reading. Our world is so full of the flashing lights and bells and whistles that kids have trouble some times associating with it. It's about time they slow down and learn to appreciate it the reading of the written word.




Anyway the book an Audio MP3 That I was able to review is called...
With Lee in Virginia
Voice by Jim Hodges who

specializes in unabridged recordings of Henty titles

- $25. for the physical Cd and $15 for the download. This is an 11 hour and 20 minute CD. I find I enjoy putting Cd like this one in my laptop. I have better control of where I start and end. I was able to play it in a regular Cd player.

Best for children 10 years or older.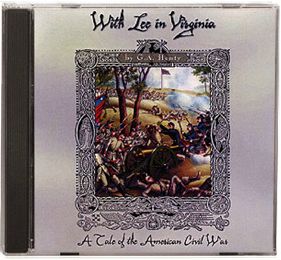 With Lee in Virginia tells the tale of the American Civil war. Now My kids are not studying the Civil war right now but we always enjoy our History and soon will be to this time period. I hope to pull it back out when we get there as a reminder.



The story

begins with Vincent

Wingfield a teenager from Virginia whose mother has recently been widowed. Vincent must make adult decisions on the plantation when problems arise. We follow the main character through several famous Civil War battles of the 1960's, as well as his capture and escape. Along the way we learn a bit about Robert E. Lee and other soldiers of the time period.



Being from the North I have always looked at the stories of the Civil war from the Northern perspective. This audio walked us through a different perspective of a Southerner.





The chapter titles are as follows...

Chapter 1 A Virginia Plantation (36:01)
Chapter 2 Buying a Slave (35:59)
Chapter 3 Aiding a Runaway (34:57)
Chapter 4 Safely Back (25:49)
Chapter 5 Secession (30:12)
Chapter 6 Bull Run (41:53)
Chapter 7 The "Merrimac" and the "Monitor" (33:01)
Chapter 8 McClellan's Advance (32:13)
Chapter 9 A Prisoner (32:54)
Chapter 10 The Escape (34:24)
Chapter 11 Fugitives (32:30)
Chapter 12 The Bush-Whackers (31:54)
Chapter 13 Laid Up (31:40)
Chapter 14 Across the Border (33:07)
Chapter 15 Fredericksburg (30:51)
Chapter 16 The Search for Dinah (36:41)
Chapter 17 Chancellorsville (43:12)
Chapter 18 A Perilous Undertaking (33:15)
Chapter 19 Free (35:21)
Chapter 20 The End of the Struggle (34:32)


Along with the audio we received the 52 page Study Guide. Each chapter in the study guide shares vocabulary words, provides questions and activities pertaining to the audio. After the 5th chapter there is a short quiz. The activity sections have many clickable links that go along with your listening. There are videos, timeline activities, cooking, map work, poetry, artwork, puzzles as well as question and answer sections. What I liked most is the vocabulary section. The words are not in ABC order but come in the order they appear in the story. There is so much you could do with this and I can't wait to explore it even more when we being our American History lessons next year.



My thoughts:

We live near the Gettysburg Battlefields. I grew up on learning the history of America and this great fight to free ourselves from each other. The Civil war is exciting to young teenagers because it tells the tale a place right here where we stand. History is so much more interesting when you realize that many years ago it happened right here on this ground.



As I mentioned above the perspective change in the story was refreshing. It was interesting to hear from the other side. I always enjoy Henty books anyway. I played this for my 14 year old and my 8 year old. The 8 year old being a bit young but he seemed to be able to follow along. I did play it on my computer only because it was difficult to start and stop. I could easily mark the time using my laptop.



My 8 year old doodled while he listened and my 14 year old followed the vocabulary and later did some of the guided questions. I printed out the vocabulary because it was easier for him to follow. There was some tough terminology there so we would often stop and start and go back and forth. I later went over the vocabulary first to help with the stop and start. We would listen to one section at a sitting usually 2 times per week doing activities on alternating day. I am not sure how much my 8 year old got from it. I thought it was well over his head but he hung out with us anyway.



Now that I was able to listen to it in its entirety I feel like I could use parts of it more for a Unit Study. I took notes as I went and notated time stops for places I wanted to come back and revisit and expound upon later.


I definitely would like to visit more of the audios the Jim Hodges has to offer. The Study guides are a welcome addition.


If you would like to read more about the Audio books click the graphic below.

Warm Blessings,

Nikki