I love planning fun things for the kids to do in our homeschool but lets face it there isn't always time with housework ,errands and planning academics. Sometimes the fun gets put to the side.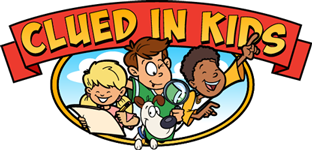 Clued in

Kids
provides that fun with interactive treasure hunts that will keep your kids moving and thinking. My kids were able to try...
Princess Treasure Hunt Clue Book
- $8.99
(Physical Product) For kids ages 4 and Up.

5 Multiplication Dragon Treasure Hunts (2X- 6X tables) - $19.99 (Download and Print) For kids 7-9


The Princess Treasure Hunt came in a small package with tear out pages. It reminded me of a notebook that you tear off. Each page tells you where to hide the card and only took a few minutes to prepare. I did get confused at first and then realized I was complicating it. It only took about 8 minutes in my case a bit more because I had them mixed up for a second there. Let me tell you what I did so you know not to do the same thing. The back page shows you the answer and where the item should be hidden. I was back a card and didn't realize the card told me where to hide it . Yep I had a moment. The card you are hiding at the bottom says leader and tells you exactly where it should go. It is that simple and yet I somehow messed the first on up. Heh heh. At least I figure it out before they went on their hunt.
My 8 year old graciously agreed to help his sister with her Princess hunt. I looked at the cards and thought some of the puzzles might be to hard for her to do alone. So they worked as a willing team.
He read the card to her and they worked on the puzzle to figure out where the next card might be hiding. They either had to find a hidden card or they had to complete a task to receive a card from me.
Here Spirit is bowing to me as a regal prince for his next clue.
The puzzles were easy to complete and the kids went all over the house looking for their next clue such as under their bed , at a window, outside at the doorbell and in our refrigerator.



At one point they were walking around with books on their heads trying to balance and walk.

After that activity they were given this next card. Sweet Pea was able to find the next gem in the pattern but wasn't sure of writing letters just yet so Spirit wrote the letters for her to find they had to go find Sweet Pea's PJ's.
The kids ended with a treat in the dryer. I decided on Princess pretzel wands ,which are pretzels dipped in icing and color sprinkles added to them. Everything we need to make them were in a bag with a bow in the dryer. They were so excited and eager to receive their reward. I can see doing these and a reward not just for completing the treasure hunt but maybe for completing a particularly hard task.
We were also able to review the Multiplication Dragon Hunt. Spirit is at just he right age learning his multiplication facts right now. I decided to use the treasure hunt as an incentive. There are 5 hunts and they come to you as a download. You simple print out he pages and hide them just like we did the Princess hunt. I had Spirit Practice and memorize his facts. We started out with the 2's and moved up the line. Each time he learned them well we would then do the treasure hunt as a review and a little reward at the end. Here is an example of one of the cards so you can get an idea of what they are like.



Your child solves the clue and then know where to find the next clue and so on. In this case there are 2 groups of four dragons. So his answer would be Mailbox. That tells him his next clue is at the mailbox. We taped it to the back of the mailbox.

This was such a great product I wish I had thought of it. My son was learning his facts as fast as he could just to have the treasure hunt!!



My Thoughts:

These treasure hunts are so simple and yet they are such a great idea. I didn't have to do any of the planning other than hiding the cards. The kids were able to take a break and have fun learning. It was just a win ,win all around.





There are many other treasure hunts available. You might want to stop by and read about some of the packages available for Christmas they make great stocking stuffers. You might also want to sign up for Clued in Kids Newsletter. When you do you will receive a FREE Treasure Hunt!!! Give it a try you might be hooked too.



If you would like to read more reviews on Clued in kids and see all the fun treasure hunts stop by the crew blog by clicking the link below.





Warm Blessings,
Nikki