Do you have a child who struggles to be organized? Or maybe your child want's to be able to see his/her workload for the week at a glance. If you said yes to either of those questions then you want to peek at the Company My Student Logbook.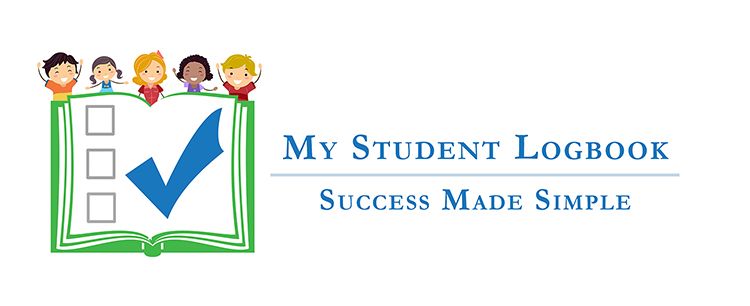 You can purchase a My Student Logbook for $15.00.
The Logbook is for children in the 2nd Grade and up. It is a different kind of planner that will help your child become more organized in their school day. It will provide them with the lessons for the week at their finger tips. They will be able to see what is next, what needs completed and what is to come. This is perfect for those kids that stress about assignments and comes in a variety of styles. You can choose a cover that fits your child's interest such as Butterflies, Dinosaurs, Sea life, Jets, the Rainforest, Freedom, Planets , Golden Vines and the one my son choose... Vintage Map...
Let me tell you how this works . It is so clever.
In the front of the book there are several assignment tear outs that you can use. The tear out page is where you will list your child's usual assignments. You simply tear it out, Cut off the edge from tearing and then you will fold this paper in half . You will keep it folded so the list of your courses is facing you. The fold will go over your check off page and you tape the back of it to the back of the check off page. If I am confusing you then check out the Set-Up Guide.

Your child will then look at the assignments for the week and check them off as they go down the page. When that week is over all you have to do is lift the flap, turn the page and place the flap back down. Voila !! You have next weeks plan ready. It's as easy as that and saves so much time.

If over the course of the year your child's course change or they finish certain subjects and you add in others. There are other tear out assignment pages in the front. So you would simply tear out a new on and tape it into your notebook.


How We Used it...


My son is 14 and used the logbook during the review period. I Sat and listed the assignments I knew he would have to complete each week Algebra, History, Literature, Science, Vocabulary, Typing, GUM (Grammar) , Rabbit club, and Writing. I also added a few chores to the bottom that I want him to remember daily. He has others but these seem to be the ones he often forgets. The logbook we received is not dated. So I just added the dates in as I went. You can add your weekends in or leave them out. The logbook will be sufficient for one year and one child. On his check list you could leave the spaces blank but I wrote the assignment heading, or topic depending on the course inside the check off box. Some I leave blank because the assignment is clear to him without writing anything. You can use it anyway that works best for you. Lets say it is 9/19 well my son would start with Algebra and complete 2-6 in his book. Then he would go to his History which read 1-4 day Three. 1-4 is the assignment from his book and it will take him three days to complete one section. If I had more direction for him I write on his worksheet pages and inserted them in his text book for the weeks assignments. When he completes these assignments he simply checks them off. This gives him a guide as to what he has to do for the week. Below is an example of a completed week. To the right is the flap page that can be flipped and a new page can be placed under it for a new week.

I
f you have a small special note for assignments you can lift the flap and there underneath is a place for you to write notes. Here my son has a note after his Literature to come see me so we can have some discussion on the readings. He has a note for his Grammar as well . He is to get instruction from me, add a page to his notebook journal, and then complete the workbook pages. Another use we found for the notes section was to add any passwords or special information. For example we are doing writing with Fortuigence and I had written his user name and password for that class in this space. I did scratch it out there as you can see. Wouldn't want you doing or writing work for us! (hee hee)


Below is a picture of his logbook before he begins crossing things off. I just completed his plans for this week and this is what he will see come Monday Morning. I put X in spaces with pen on days he doesn't have certain subjects. I also like to keep Fridays light for running errands. As you can see I also added Rabbit club which is a 4H activity. At the moment he is preparing a notebook and it is due in Oct. So we have much work to do with it yet. This was my way of reminding us to work on it weekly.
You can anything that is a daily task for you students.

My Thoughts...


I am in love with the logbook! It has saved me so much time when I'm planning. I used to write each assignment out in full so that he would have a guide of sorts. It was so time consuming and often would take an hour at a time. I choose to try it out with my 14 year old because he can be so disorganized. I would often get "I forgot Mom." This check off guide has given him no excuses as to why he didn't complete an assignment. My son also likes it because he can see what he has for the week. He knows when he is done, so now he can strive to work hard and finish early if he wants too. I like that it gives him the responsibility of making sure his work is complete.

I really wish I had had this logbook back when my 17 year old daughter was in school. She struggles with dyslexia and ADHD that comes out as anxiety disorder. She would fret about what came next in the day and I would have to make her check lists. When we would run errands she would become extremely anxious. I found that if I gave her a sheet of paper with a list of the errands we needed to complete that it would sooth her anxiety. She would sit in the back of the car with her paper and cross off the activities we completed. It would have been so nice to have some pages in the back of this logbook for our errand days. I always tried to run the errands in the same order so there would be a schedule of sorts for her for that day. Using this logbook reminded me of that. If you have a special needs child then this might work great for that child in various ways. I really can't believe I didn't think of it. (wink) It's such a great idea.


After trying it out for several weeks. I have decided that it would be a great fit for my 3rd grader too. I do still write in my plan book and organize what we are going to do for each day but this is something directly for the child. This particular child is constantly asking me what is next. I was thinking for his logbook I'd put it in a specific order, adding lunch and playtime to the chart. With my older son I didn't write a time for anything and left that part vague because he will often jump around subjects and complete what he wants to for the morning. As long as he gets the days work done I don't mind. There are certain subjects like Literature, GUM and Writing that he does at a specific time because he needs more help from me and it is guided. Now my younger son needs to stick to his specific plan because I have his younger sister to work with as well. I usually flip flop what they are doing, so they each get plenty of one on one time from me.

The Student Logbooks are definitely something we will be using again next year.

If you would like to connect with them on Social Media you can find them at...



Facebook –
https://www.facebook.com/MyStudentLogbook
You Tube --
https://www.youtube.com/channel/UCMxzpy91vov8a8nDpyp2ihQ
You can also connect with The Schoolhouse review Crew and see how others use the logbooks. Just click the graphic below.


Warm Blessings,

Nikki