In our world today we are inundated by technology and visual stimulations. These tools have made the art of communication and using listening skills at times a lost art. Children are often tuned in to various things at once missing the visual stimulation of the mind that words can place on the imagination. Those little minds can sometimes create better visuals then those of Hollywood. It can take practice if you aren't used to using this tool. An imagination is not a thing to waste. Why not invest in that practice today with Heirloom Audio Productions.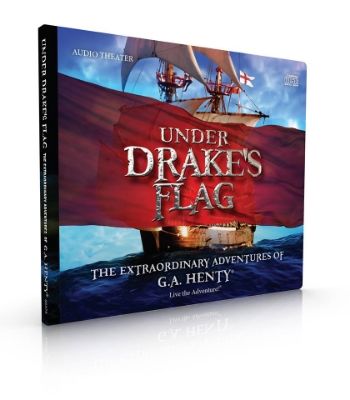 I present to you the newest Audio production Under Drakes Flag - a two CD set for $29.95 for children 6 years to adult. Included with your CD's will be a study guide that you can use along with the listening session. You can also purchase the download for $20.00.

Maybe you aren't new to audio stories and have shared them with your children before. These audio dramas are definitely a different listening experience. They are fast pasted and engaging. The sound effects bring you to the story and allow your imagination to soar along with the action of the story. You will hear a lot of water sounds along your sea faring experience.


Heirloom production takes you on this magical journey using the stories of G.A. Henty. Maybe you recognize the name. Henty is a 19th century English writer who wrote historical adventure stories. Along with Under Drake's Flag he has also written several other stories. Some controversial in his time. The Audio story is adapted from Henty's book. Your children will be listening to the Classics in high definition way.


About the Story....
And so the story goes... Ned a young boy is about to take an adventure of his life. Sir Frances Drake is witness to Ned saving another in the sea and invites Ned to take the adventure. He soon befriends another young man named Gerald.

Before they know it Ned and Gerald are at sea and engaging in an adventure of a life time. They encounter sharks, fight in battles, survive a shipwreck, face their fears and the Spanish Inquisition. Along the way they seek treasure to bring back to the queen. A lot of piracy and adventure involved in this tale.

As Ned travels he spends time seeing the exceptional morals of Sir Frances Drake (aside from the piracy) and wishes to work toward emulating those great qualities. Some of the same qualities taught by Jesus Christ. Your study guide will help you ask just the right questions to get your kids thinking along these lines.



The Study Guide

The Study guide comes as a small insert in your CD box. You can use your study guide as a discussion board or as a written assignment. I was also offered the pdf version which is a complete abridged version.
Each set of questions has three parts...


Listening well- These are questions about what your child heard.

Thinking Further- Here you will find questions you can ask your child to think farther. It has your child think about something that is mentioned in the story so that they can draw their own conclusions with the mindset of the character.

Defining words- Grow your child's vocabulary by learning new words that are used in Henty's work. Your child may need a dictionary to look up the words or an online dictionary.

At the end of the study guide you will find three brief bible studies. These will give your child a clear picture of Godly Character. The Studies are labeled Godly Character, True Manhood, and Confessing Christ. I loved the True manhood section since I presented this one to my both of my boys.


More about the Audio...

This audio was recorded in London by the British Actor Brian Blessed.
Sound designed by Mark Druray from The Chronicles of Narnia audio series.
Music by John Campbell who also is a part of Lamplighter theatre, Focus on the family Radio Theater and Adventures in Odyssey.




Our Thoughts and How we used the CD

I decided to use the CD with my two boys ages 14 and 8. They are learning about some of the great explorers of our time in their history books.

We tried using the CD while we did some of our art lessons. The kids like to listen to something while they work. They found it difficult under that setting and situation to follow the story line. The adventure is fast paced and your listeners really need to be listening to follow along.

I decided then to regroup and try something else.
I listened to it myself one time around while doing household chores and thought the kids needed a little background on the history of this particular time period. So we had a couple history lessons. I felt they were needed to understand what was going on. This time around I had my 14 year old sit with the headphones and listen to the story. He laid on the floor and closed his eyes. This is usually how he handles things of this nature. He was able to follow along and really enjoyed the story. We did not use the study guide the first time through but we decided to use that first time to just enjoy the story line. He
enjoyed the difference from our usual History activity. The second time around I pulled out the study guide and we worked in chunks to analyze more of what we were listening too. The vocabulary hit right for him in most cases. There were times he already knew the words but for the most part were helpful as he listened to understand the text. I asked him if he would like to get another when a new one comes out and he thought that was a great idea. This particular child has some writing delays and just absolutely hates to read. This is a great alternative to sharing some of the classics with him in a way that he can enjoy. I get to still be that proud homeschool momma when he is talking about Henty and the story he just heard.

Now my 8 year old was a little different. He is very high strong and active. We needed to listen to the story in blocks, Sitting for long stretches of time is impossible for him. I'm not sure he followed the entire story because it was to fast paced for his listening ability. He just struggled to stay focused and couldn't follow along. I think simpler for him at this time is best. This might just be an ability that we need to work on. It was good to figure this out so that I can share other audio stories with him in the future. I believe learning to focus and learn listening skills is an important skill to have.





What I liked...
The story is engaging and action packed.

Learning history this way can be fun and a nice change to our regular curriculum.

I liked that it Teaches strong Christian Values. There isn't a whole lot of literature out there in this time period that is not good for our children to read. It is nice to be able to share something with depth that inspire excitement.

Out of my two children ages 8 and 14 I felt that is was most suited for my 14 year old.


We will definitely be keeping our eyes out for the next audio from Heirloom Audio Productions.


If you would like to read more reviews from the crew click the graphic below.

Warm Blessings,

Nikki