Most of the time I am running on a last minute mentality. I am coming out ! I admit it! If you know me you will realize now that even though I appear organized you are only seeing the after effects of scrambling around all morning and tossing things together last minute. This puts me in a lot of stress and I'm not sure how long I can continue on in this way. As I age the stress is beginning to get to me. Let me tell you about a Company called the The 7 Minute Life. This company is helping me to get my "stuff" together and organized in a way I can mange with...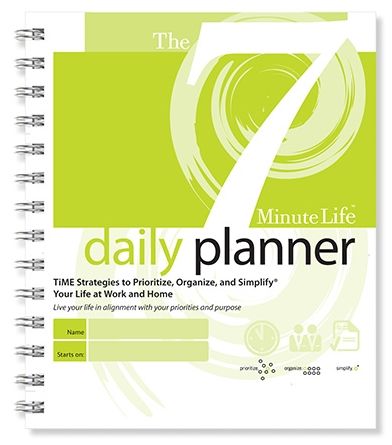 The 7 Minute Life Daily Planner

- $24.95
(A planner for Adults used to manage their time)

More often then I'd like to admit it I am scrambling around. Sunday Mornings I rarely am ready for Church services. I hold a paid staff position. Usually I have to bathe my preschooler because I didn't get to her the night before and I have to still figure out what I am teaching for Sunday school. Many times I have gotten up early just to figure it out. Then I am tired later in the day when working with the children.
Either that or the preschooler is difficult and I just "wing it" for that weeks lesson. I am sure not what God had in mind for our little blessings.

This last minute Lucy syndrome doesn't just happen once a week. I am scrambling over lunch to set up Science experiments and sometimes cutting out things needed for my preschoolers activities. I know this is all counter productive to completing tasks and yet I continue to do it. I feel like I am always one step behind the goal and never making any progress.


... But I am learning...





"The Average adults attention span is 5 minutes. Attention is key to your time management. "


What if you can focus for 7 minutes at a time?

You would break down your tasks into a process of steps to complete your goals.

First THINK- What do you want to accomplish? What are your goals?

Next Find your Goals - What will you do?

Now that you know what you will do it's time to create Action Steps.
Within those actions Micro actions - Which break your actions into mini steps you can complete in a sequence from start to finish.

Each day you will...

Choose 5 high value activities per day off of the list.
Focus on accomplishing them every day.
It should take you 7 minutes a day to sit down each afternoon and plan for the next day. Think about your 5 high value activities and put them on your plan.

It might be more understandable if I show you my planner. I am still learning how to use it but it has already made improvements. I do not have a big career to manage but managing my home , Blog, and church activities can be career enough.


When I first got my planner I thought I would just sit down and start filling things in but it didn't work that way. In the beginning it will take more thought to get you organized and I still feel like I could add more to some of the pages.

I began by Prioritizing my values. I went through the list and started marking all those words that jumped out at me such as Faith, Family and health. At the bottom of the page I was to put them in order of my top 10. It went like this Faith, Family Health, Friendship, Independence/Freedom, Teaching , Order, Security (Financial), Happiness/Self respect and last Creativity/Arts.

On the opposite page I just began jotting quickly my thoughts from the words of my top 10 values. I found that key things came up over and over. In doing this process I gained a knowledge of importance for my life. It became centered. 



I then began my 90 day goals. Now for me at first I didn't narrow them down enough. Below you can see I started but I had to go back later and create more of a plan. I want to be financially secure. So I have a plan to make some money. My goals weren't in order to start either. I would need to work part time and save some money first but in the mean time I am researching schools. I would like to learn web design and work from home but the first goal would be finding and securing part time work that works for our family . I had to go back and break that into smaller tasks.

I also love teaching and have a few books on my wish list for the kids. So I was thinking to start a small online business using teacher pay teacher to share worksheets and teaching material I might make . Anything I make from that would then go in a book fund for the kids. This would be our "Book Money"

I later added a goal to become more organized with Sunday school, To spend more time with the art I love, read my bible in 3 years, and to begin eating healthier/exercising.
With my Church organization in mind I wrote out all of the tasks that I do in our church in one year. It was good to see them all there and each will have to be broken into Micro manageable tasks.

The next few sections I am sure had a business in mind but I worked this book to work for me. One of the uncompleted tasks I didn't mention was that I always miss everyone's Birthdays, Anniversary's etc.. so I thought I would use this page to start jotting down the dates as I find them. My plan is to create a card box at the beginning of next year . I want to organize it by month and purchase the cards ahead of time so that I send them out on time. No more missing Birthdays and special events.
Remember my Sunday school plan. Well I like to have a general plan first. This 90 day Calendar Worksheet worked perfectly for that. I am just beginning right now but have all the dates and special events written . Part of my micro management is to research curriculum so I am at that stage right now in my planning and doing short character lessons until I get organized .


Lastly I want to share my daily progress report. At the end of the day you will fill this out so you can plan for your next day. I changed the planner a little to fit my needs as again I am not a business.

Lets look at the right side of the planner first. At the bottom of the page. You will see glasses of water drank. I love this because I often forget to drink water. This picture was taken mid morning and I still hadn't had any water to drink. I tend to do this with food as well. It might be 4 pm before I realize I haven't had anything. This has helped me be more aware of what I am putting into my body as there is a place to write your food for that day as well .

You might not be able to read it but it asks how many hours of sleep you had last night, How long you exercised, found time to read, and time for meditation. For me Meditation meant prayer. The other actions were things I was doing to get to a healthier me. Reading my Trim Healthy Mama book , Exercising, Drinking water, and menu plan. Very good for my 1st goal .

At the top of the page you will find my 7 minute task for the day. These are to be done all 5 before 11 . This day was busy so I had three there instead . Below that are the connections I am getting to the 5 minute life. I am not sure I am doing that section correctly but you can make it work for you.

Below that is unfinished tasks. I made that my blog /Blog review spot. I write in things I am working on reviewing right now. Actions I want to take like Pinning parties and Facebook shares etc...

Farther right I made that my to do list for the day. It changes and evolves as the day goes. I jot things down that are on my mind to do and things that come from my goal or uncompleted tasks. Just depends on my day. If I don't complete something it moves to the next day.


Remember me mentioning my book crazy momma mentality. well I made the spent area at the bottom my area for a wish list of books for that week. I know I have a problem. (ha ha)


To the right I have my day by the hour, emails I need to make , and to the far right prayer requests for friends and family. I choose to change that . It was a contacts list but I don't really have contacts as an at home mom. So I figured my contacts were with God. To the bottom I wrote the books of the bible I wanted to read this week to get to my to my goal of reading the bible in 3 years.



For me I'm a list girl. I like to make lists and have the knowledge of checking them off. I like that I am working not randomly but with a goal in mind. I have been more productive in this time period of our review that I am finding I have time to sit and really be in meditation like I would like to be. I also have time to take care of me which is just as important as the other tasks on my list. Now that I have worked in the planner for a bit. I am looking forward to when it warranted to get another one. I think the second round of 90 days will be even more focused and better than the first.

You can connect with the 7 Minute life at...



Facebook –
https://www.facebook.com/The7MinuteLife
Twitter -
https://twitter.com/allyson7minutes
Pinterest -
http://www.pinterest.com/the7minutelife/
Google+ -
https://plus.google.com/+AllysonLewis7/posts
You Tube -
https://www.youtube.com/user/AllysonLewis
If you would like to see how other Crew members used the 7 Minute Life Daily planner click the graphic below.

Warm Blessings,

Nikki