We love as a family educating at home. There are things just like any other school that the kids love and there are things they just don't like to do. For my boys in particular that subject is spelling and the other for my younger son is Math facts. He just has not developed the number sense he should have and definitely can't match the speed of peers his age. That being said let me share with you UberSmart Software and their product UberSmart Facts. a $24.95 value. This product would be for children K-6th or higher depending on ability of your child.

UberSmart Facts is a program that you download to your computer. You will want to make sure your computer has Windows 7, 8, XP, or Vista only. Once you download it you can use it with 8 or more students.

This program will help your child learn basic Addition,
Subtraction ,Multiplication and Division facts. Addition and Subtraction facts go up to the 9s. Multiplication and Division have the option to set it to go up to 9's-20's.
UberSmart is like standing there holding the flash cards as your child works but in this case it is done by the computer. Your child will work on one number group at a time. In our case my son who is 8 years old started with addition. He has done addition and subtraction facts for awhile but he has not been able to master them. He first starts out with numbers added to 0, then 1, then 2 and so on. As you go each time you move higher your child has less facts to memorize. Learning the lower numbers first helps your child have success.

Before you go into a test mode or speed drill type of setting you will start out in the Learn mode. When you click the learn mode you are given options as to what facts you want to appear on your child's card. You can set it for one set say all 0s or you can set it for 0s, 1s and 2s etc... There is an option to receive the cards in order say 0+0, 0+1 and so on or you can click the shuffle box and mix them up. The facts appears and then you click it to flip it over and see the answer. Children can practice by calling out the answer . If they don't know they can click and flip the card over to learn the answer. Below is an example of that with multiplication facts.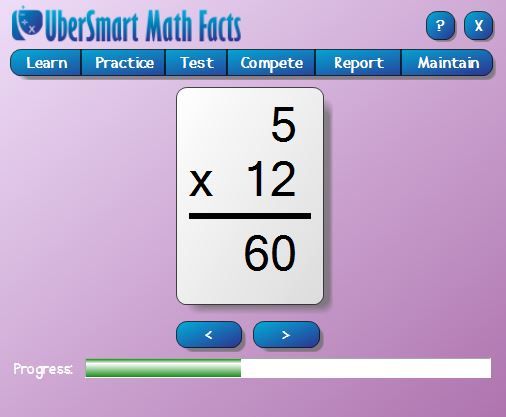 The next tab is practice. In this section you can still choose your facts just as above and the shuffle mode. This time your child can type in their answer. They type in their answer and it says if they are correct. If the answer is incorrect it shows the entire problem and the answer to the fact. I like the visual of that from just showing the answers.

The next level is the test section. Here your child will now see what they can accomplish. The test shows you one problem at a time but gives you a visual of the problem you did before and the problem you used after. If your child does not like tests you can choose from an assessment test option or a mastery test option. Assessment testing allows you to go at your pace so they can take their time to show what they know. This is a great option for children that stress over the word test. The mastery test is timed. As you can see below there is a bar at the bottom of the page that shares how much time you have left to answer and how far you have progressed. The time is adjustable. You are also able to skip a question if needed.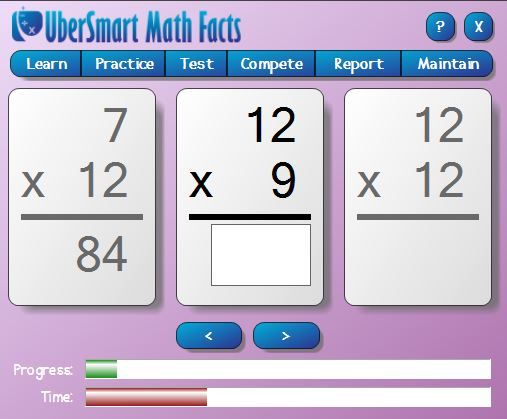 In compete mode children answer facts and a score is kept for them to try to beat the next time around. My boys can be competitive ,as many boys can be,and liked this feature more than the rest.

A report is kept with your child scores. So you can keep track of their progress or lack thereof.

If you children are not ready for flash card style mode they can go into dot cards. The dot cards can be used on the practice mode as well as the learn mode. In the example below you see you are adding 3 dots plus 0 dots. So you would click the card with three on it and then show.
As I mentioned above my 8 year old son used this to work on his addition facts. We worked three days a week . I can tell you that at first my son was not in love with this program but I felt that it was something we NEEDED.. and sometimes need overrides. He just doesn't care for math in general.
However by the time the review was to be written I have begun to see an improvement in his facts. The test will tell when we get to subtraction as this is the thorn in his side. We will continue using UberSmart as long as it is working well for my son and right now I see good progression. I like this because it gets down to business . You don't have all the bells and whistles to distract from the point of your math session. For us it works.


If you would like to read other opinions about UberSmart click the crew graphic below.

Warm Blessings,

Nikki