This year as part of our School day we are meeting together in a morning meeting with the youngest two ages 8 and 5 to work on a Character Study. Our Bible shares a lot of Character and how as Christians we should present ourselves. I want my children to focus on those character qualities and practice them as well.

Happy Kids Songs provides children with a fun way to explore Character, Social skills and Emotional Skills all through Song. I was able to review 3 Sets of music as a digital download and the Happy Kids Workbook.

Friends And Sharing (set 1)
(5 songs, download)- $4.95

Happiness and Attitude (set 5)
(5 songs, download)- $4.95

Manners and Character (set 6)
(5 songs, download) - $.4.95

Happy Kids Songs Workbook Hands-on Activities to Build Character, Social, and Emotional Skills
(physical workbook) $12.95
Ideal for Children Ages 3-8




Friends and Sharing Download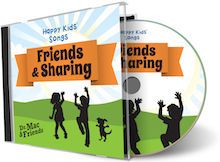 All three of the song sets present music to children sung by children. Each has catchy tunes that children will pick up on quickly and soon be singing along. The Friends and Sharing set provides you with 5 songs.

Sailing the Seven Seas- Mixes rap and singing in the chorus in an upbeat song about Consideration, Concern,Communication,Caring, Commitment,
Communication, Curiosity and Cooperation. (The Seven C's ) It talks about what to do when things get tough and what it means to be a friend to someone.
Everybody wants to be a Friend- This song is a bit slower and talks about what it is like to be alone and to feel left out. It shares to the shy child that they should talk to others because everybody wants to be a friend.

Sharing Friends- This song is great. My little girl needs this one. The song is about playing with more than one friend. That its good to share and play with more than two. This is a catchy tune.

Happy as Happy Can Be- This song is cute it is about things that go together but it is insinuating that friends go together. It compares it to flowers and bees and a lock and key.

Together- This is a goodbye type of song. It would be good to play this one at the end of a classroom activity in a co-op for little ones or even for a Sunday school room. It talks about being friend , begin together and saying goodbye until the next time.
Happiness and Attitude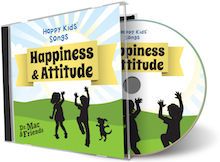 Shake it out and Dance- Is an up beat and high energy song. I actually thought it reminded me of a song from the movie Fame. (hee hee so cute) This song is a great one for brain breaks when the kids need to get up and get moving. It tells the child to shake their head, feet fingers, etc... My kids love this one.


Who knows What's a Kudo- This one is about doing something nice. Helping out mom or giving a compliment. Very up beat as well and catchy tune.

I don't understand- I loved this one. Only because one day we were struggling with math and getting really upset. So I put this one on and I had giggles. It is about not understanding. The child is to ask questions and not complain. This child is inquisitive and wondering about everything. Much like the stage my five year old is in right now always asking questions.

Be Good to Yourself- This song reminds kids to have a happy attitude. That by doing so they will be being good to themselves and have a happier day.

Better Together- This song is for the child that likes to play alone. It reminds them that its good to play alone but also to play with others too.

Manners and Character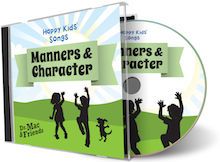 H-o-n-e-s-t-y- The song on this Set really aligned with my Character study. This particular song is about being honest and telling the truth. On occasion the younger kids tend to tell extended stories. So they learned that the truth is always the best way.


The Magic Word- Of course moms and dads you know the magic word is "please" This one reminds children to use their please words, Can I and May I . Manners today tend to be lost. I love that my kids have them.

Quirks- All of us our different and this one tells us some of the things that make each person unique. This would be a cute one to do with an All about me lesson.

The Golden Rule- This one talks about using nice words when talking to others. The old "If you don't have anything nice to say don't say it at all."

Six Little kids- It is a cute song about 6 little kids and their different perspectives at a circus. It teaches children to respect others views.
Happy Kids Songs Workbook Hands-on Activities to Build Character , Social and Emotional Skills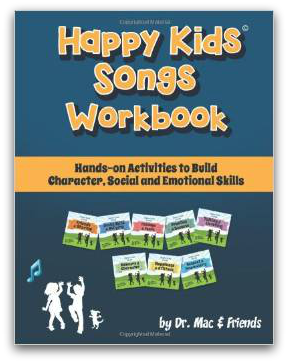 The workbook is an 125 page activity book that comes with all of the lyrics for all 8 download sets.
Along with each one your child will be able to complete an activity page or a coloring page depending on the particular song. The activities vary per song. In some cases you might do a word search, matching, coloring, drawing, writing , fill in the blanks and so on.


In the back of the book you will find an activity guide of things you can do with each song. For example for the Sailing on the Seven C's song you find the focus which is understanding Friendship. The social and Emotional concept is listed. Then It suggests making index cards with the seven C words written on them as an introduction to the song. It provides a bit of question and answer along with your conversation time on the C words.

You are provided with a game that goes along with the skill. For this particular song the game is Charades. To explore how actions show how we feel about ourselves.

Another activity in this section is encouraging children to make cards. And then there was a classroom activity which we did but was to easy for everyone because we live with each other. (hee hee)
You had to write three things about yourself and then mix up the pile and guess whos belonged to whom.

There are activities such as this for each song.



My thoughts:

What I enjoyed most about these songs is that it took my children across their learning styles. It wasn't just happy tunes to listen to in the car. It taught them lessons that they can live with and use in life. The workbook provided an opportunity to hit all of my children's learning styles. The Lyrics and puzzles provided something for the visual learner. The songs themselves provided something for the auditory learner. The arts, craft and games provided activities for my hands on learners.

Recently I read an article that said that music is the only thing that causes our entire brain to work at the same time. It just lights it up. That is definitely what we want in our homeschools . Lite up brains.


We really enjoyed the music. It was a bit of a stretch for my 8 year old. He is wanting to choose more grown up music but I definitely would like to purchase the rest of the set for my 5 year old. These were perfect for her little radio. She has a radio that you can hook mp3 music too and I was able to do that with these downloads rather easily.


There was one song my active 8 year old loved and that was the Shake it out and dance song. My son has a brain break jar with activities that are short and easy to do , So that we don't get to distracted from our lessons. They complete the activity and then move back to our book work. This is great for his busy active boy self. We added the Shake it out and dance song to the Brain break jar at his request.


I would like to use these in my Sunday school classes. Over the summer we like to make our lessons lighter. I think doing these character activities would be great. I also probably can incorporate them in our bible studies as topics match up. I have hopes to purchase and download the rest of the Song sets.


If you would like to read more reviews about Happy Kids Click the graphic below.

Warm Blessings,


Nikki