Veritas Press
offers a new way of approaching History. It's
Self Paced History
course offers the student an Online curriculum option and uses a classical approach to education.


For the purpose of this review I was given a years access to : Veritas Press Self- Paced History : Explorers to 1815 a $199. Value along with the Explorers to 1815 Flashcards a $19.95 dollar Value.

The Self Paced History is for Children Grades 2nd-6th. My son will be entering 3rd grade this year and is the child that participated in this review.

I have heard a lot about Classical Education but have not had the chance to experience it myself or with my children. I know that there are many in our community that use this style of education for their children. I honestly had to look up the basic outline of this style. As I read about the approach I found I had heard the theory before but didn't recall the name to it. If you need a refresher yourself Veritas has a nice explanation of Classical Christian Education. It's funny because I had just read an article about the approach to the teen crowd 10th-12th grade learning best by approaching education through argument. It's an interesting idea. One I plan to dig into farther.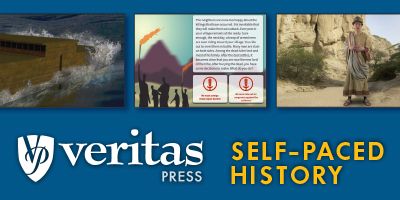 Veritas Self- Pace History helps us
teach history chronologically, integrating biblically recorded history with events not recorded in Scripture. The self pace courses have 160 periods and 32 historical events all based on the flashcards. There are five self paced history Courses available.

Old Testament and Ancient Egypt

New Testament , Greece and Rome

Middle Ages, Renaissance and Reformation

Explorers to 1815
1815 to Present

We selected the Explorers to 1815 because this is about where we had stopped in our previous history lessons. I was able to register myself to the self paced curriculum and then create an account for my student. (Spirit age 8) My account gave me an overview of the course and my sons set him up with the history lessons in order. The directions for set up were very clear and easy to do. The child simply clicks the lesson icon and it begins taking him through a tutorial on how things work. There is also a supplies list and additional printouts that the parent can use along with the course. When your child stops he or she is able to later come back and the program begins where they left off. You cannot click around the course it only works in chronological order. As you complete one lesson you move forward. However the way this course is presented it wouldn't do you much good to jump around anyway.

Before you purchase Veritas Press you will want to make sure that your computer will work with the videos and games by testing out a few things from their website.

We used the curriculum 3 times a week during varying time periods. I allowed my son to work until he would tire of it. He tends to be a very active child so I found the start and stopping very wonderful.


Children are presented various videos that teach the lessons to your child with creative energetic skits. The videos are clear and entertaining. Your child will be intrigued by the characters. Each short video message teaches a concept that they will later answer questions on. The kids learn early on to really pay attention to the videos so they can answer correctly. Sometimes they may even want to take notes and then do the questions or games. If you get to the questions and are unsure you can click back and re-watch the video by choosing it in the menu drop down box.
The questions asked are set up in away that isn't overwhelming. Children are given sometimes one - three questions depending on the segment. They answer by clicking the correct bar then submit. After submission the child is told whether they had a correct answer by Good Job! or Try again.


Children are introduced to various words as well and have the opportunity to try to spell them. As you can see at the top of this screen my child was timed when trying to spell the word Cloister. The spelling was rather tricky for my beginner reader but we would write words out ahead of time and then practice its spelling on the screen. Much of the Self- Paced history is for a child who is a auditory learner or visual. You might have to modify a bit for your hands on learners.

Your child will also be introduced to a rich vocabulary surrounding your time period. The words are introduced in a video and then the kids are given various games, puzzles or question and answer screens. This one below shows a simple click and match to the correct definition. The last one is not chosen yet because as soon as you choose the correct one it presents you with a Good Job! If you choose the wrong definition the line is taken away so you can try again.

You may also be presented with a new fact. Such as this one where the sail changed from a square to a triangle. To enforce this idea my son put together this puzzle of the sail. The last piece is ready to be placed.

Children will be introduced to mapping skills. Often the videos share information about and area and then it will be your turn to try to locate the different places on your map.



All of the videos and activities are based on the timeline cards. The cards are almost the size of half a piece of paper and are laminated for use. On the front of the card is a visually stimulating picture of the event or person. Many have photos of art that was created during that time period.

On the back of the card you will find dates, facts and other resources that you can use along with your video lessons. The idea is to keep this card handy as you work through the lesson screens. During each Lesson section you will be prompted at some point to listen to the memory song. The song comes as a printable so it's easier to sing along. The memory song was approximately 4 minutes in length. Incidentally it's a catchy tune. My preschooler started singing parts of it and dances around when she hears it. So you know that the older one is catching on to it as well.

My gamer loved that there were games that would review as you went. This particular game has you the explorer moving through looking for a treasure map. You child walks up to objects until they find a piece of the map. When they find that piece they have to then answer a few review questions. All that comes from the flashcards. 


Once your child completes a lesson then they are given a small "test" of questions. There usually aren't very many and they all came from the flashcard. I allowed my son to use the card as needed. This snapshot was taken his first lesson and first week because he was so excited about the first one. You have the option then to review questions again, print out the reward or move on to the next unit.


My Thoughts:

Veritas is definitely for a visual/ Auditory learner. My son tends to be a kinetic learner but we were able to do a combination of things along with the videos. For him we would have to find some fun hands on things to go with some of the lesson but it is easily adaptable if you are a creative mom like myself. Typically I like to touch on all learning styles so this worked perfectly for him. The questions after each section was great in getting him to focus for the challenge of a game or activity. He is really into games right now so to be able to play a video game in school was an exciting thing for him.

The only things I wished for was a mp3 of the memory song. It would have been great to be able to play this in the car or as we were about our day. Perhaps even put on their players for them to listen to on their own.

We are really enjoyed Veritas Press. It provided a nice change to our history curriculum.

If you would like to read more reviews about Veritas click the graphic below to go to the Crew reviews.




Warm Blessings,

Nikki