Flourish Balance for Homeschool Moms
By Mary Jo Tate $15.00 for a Softcover book from Apologia Educational Ministries .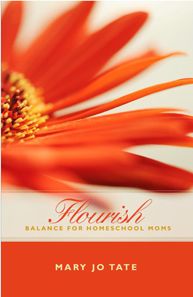 Flourish Balance for Homeschool Moms was written with YOU (the homeschool mom) in mind. The book is for those of us who try to juggle it all, including moms, Homeschool moms, at home business moms, and the single mom. Mary Jo Tate shares with us many strategies and ways to helps us to become more organized and to help us move forward where we are right now and FLOURISH. Including these Chapters...
1. Introduction
2. Change Your mind to Change your time
3. The FREEDOM toolbox
4. Where did my time go?
5. Aim High Setting Goals
6. What Do I do Next? Seven Essential Planning
7. We interrupt this Program
8. It's time for an Attitude Adjustment
9. Oxygen masks and Monkey Bread days
10. Training your Children
11. Making Memories
12. Managing your home
13. All of Life is Learning
14. Solo Act: Flourishing as a Single mom
15. Home Business
16. Moving Ahead


The book is 288 pages in length with 16 chapters that are listed above. Mary Jo shares many of her struggles and life stories to help you understand that she has been there too. This is more than I expected to find and was pleasantly surprised to receive the authors personal insight. It felt like I was conversing with a friend about homeschooling, organizing a business and managing the home. Grey boxes on the page draw your attention to various quotes from well known authors and other parents just like you and me.

After Each section you are encouraged to "Take Action" This section provides you with important questions that you can ask yourself to really think about what you just read. It was a nice way to balance out my thoughts. Some of the Take Action questions refer you to the back of the book which has various worksheets that you can fill in and complete. We were also given Pdf files of these same worksheets which made it much nicer than writing in the book itself. Although I found my copy rather rough looking at the moment and I bent pages to save things I wanted to read again. It isn't another organizational book . Mary Jo takes you beyond that.
My thoughts:
Flourish is Mary Jo Tate and about all of us really . You will be able to find a piece of you in there even if you don't have your own business to mange with homeschooling and even if you are not a single parent, which is all a part of Mary Jo's life. She wanted to continue to homeschool and spend time with her kids, So she started her own business. A single, homeschooling mom with an at home business can surely give all of us advice.

The book is also about time management and ways to manage your time, such as cleaning out things to save time but it also talks about managing the different hats of motherhood and finding time for your business. (including time for homeschooling)

One of my big AH HA!!! Moments was this one...
She talks about being in "crisis mode". How we can get by by just doing the minimum . Do top priorities first she says to get you through the crisis. Now here is the thing a few years ago. (Yep Years) I was in this "crisis mode" and since then I have been floundering around trying to find my balance. The problem with "crisis mode" is that just as Mary Jo states it works for a little while but eventually you burn out. This is so where I am, Right now. I have been in crisis mode for so long that I'm now burned out and I can't seem to get out of that mode of doing things. I have all these mini projects going on and am really not doing anything well. She suggests writing out what you do per half hour for a week and see where your priorities lie. Where can you change and be more efficient? She talks about those things you must do that are a given . Those things that you want to do that are non negotiable and those things you can pass out to others and those that you need to let go.
This was that great moment where I said yes this is the problem. I have to discern what is the priority. I have been wanting to start an at home business. I have all these ideas for it for some time but have not done anything because I feel so disorganized already.

Now I am a list maker so I could relate to the idea of making lists and organizing my weeks and days but what I have been lacking is the goals. Now no worries all of this is explained in the book. Including how to create your goals and begin making your lists to organize your day. I might have a plan for each day which like I mentioned kept me in that crisis mode but I wasn't really meeting any of my goals because well I didn't have any and because of that I couldn't get past just surviving and get started on my business.

Mary Jo also shares a Tool box of things we can do to get ourselves together using the acronym Freedom- Focus, reflect, educate, Eliminate, Disciple, organize and multitask. Many of these tools I was already using but it helped to hear them again. I learned that I do have a Schedule but I'm more of a routine type of gal. I always thought I was scheduling but the truth is I am not bound by time.

We looked at managing our time as well. Now a huge time waster for me is the internet. As much as I love you guys I often get sucked into social media. I plan to get on to do the simplest of tasks and instead I'm reading Billy Joe Bobs post about his sister. I really have to manage that better and that would help me to be able to focus my time to my kids, home and business ( the one that is only ideas right now)

There was so much I took away from this book that I don't want to give it all away but I do want to tell you about a few more things. There was a section on managing your school time too. Now this area of my life I feel I have down. It is the one area that is organized. It's just putting it all together that seems to be the issue . Meaning Home, school and business. There is so much to do all the time but I really think the goals I have created for myself will help with that issue.

I loved the section on Training your children too. At this point I have teenagers and they are doing much of the work on their own at this time. However I do have two younger children too . I needed some reminders about getting them to become more self sufficient and stepping back some so that they can flourish. I realized I need those chore charts I used on the older kids many years ago for the younger ones to establish habits that last. I was also reminded not to expect perfection.

Then in Chapter 15 we discuss the home business. I have had ideas for some time now but have not taken steps to complete any of them. It's time to add that to my goals and start taking steps toward financial stability. I have been reading and learning . Now its time to start.


Moms, I highly recommend this book to you. I LOVED IT!!. I have notes all inside and pages dog-eared. Definitely a book I will be referring to for some time.


If you would like to read other reviews on the book Flourish click the crew graphic below.

Warm Blessings,

Nikki