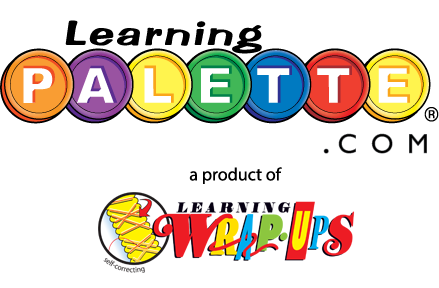 Kids love to play games. They like the challenge of the win. What is great about games is that your kids are learning while they play. Learning Wrap Ups help you to provide educational activities for your kids that are entertaining and enjoyable. They will be begging you to learn their math facts or practice reading skills. That's what we want as parents. We want that enthusiasm. We want them to want to learn.



Learning Wrap Ups has many fun hands on games to play . I was given the option to review LearningPalette.com a $59.99 value for up to 5 users
The vendor is offering a coupon code HOMESCHOOL to receive a 20% discount for a limited time.The online program includes access to 55 titles of Math, for grades K-5 and Reading, for grades K-3. Each of these 55 titles includes 12 lessons with 12 questions per lesson. This adds up to an amazing 660 lessons and 7,980 questions.




I used learning Palette Online with my 4 year old and my 8 year old 2nd grader. Now my four year old isn't quite ready for Kindergarten yet but she did enjoy playing a few of the palette activities. I really wish they would develop one for preschoolers.



This is what you will see when you put in your child's password and user name. At the top of the page you will find tabs that read Math and reading. You can select either one by clicking on the words/tab . I took this screen shot of my Sweet Peas (4) page remember she is not quit ready for K yet. As you can see she was able to do some of the palettes for math. I allowed her to skip around and do the ones I knew she could complete. She was happy to do them over and over again.




Down the left hand side you can view the various levels. You see that Math starts out Basic and goes through to 5th grade. The Reading starts with basic as well and goes to 3rd grade level. You just click on the grade level of your child. In this instance it was my Preschool student as I mentioned above. In the middle You see a list of cards and topics that are represented. Beside that card number is a circle. If the circle is empty It means you have not completed that one yet. If the circle is colored then you have completed the task. The colored circles seem to use a stop light type of code for kids and parents. Green meaning you mastered that palette, Yellow could be done faster and better and then red we better work on this one. To the far right you will see the topic covered. At the bottom of the page you can click progress report to view how your student is doing.





From this screen you click the card you would like to complete and then click the load button.
This is what you get after clicking the load button. You will get a variation of learning topics depending on which palette you have chosen. Sometimes the circle is divided like the one above and sometimes you use the entire middle filled with questions and its not divided. The top blue section in the middle using the round disks with a hole in the center. The child looks say for the squirrel shape. Then sees it has a purple disk with a hole in the middle. They would click and move that disk to the proper place on the wheel. Now the bottom in this palette is using the solid disks so all of her answers for this one would be in a solid color. My preschooler had no issue differentiating the differences between the top and bottom questions. When your child lays in the last disk they will be asked if they are finished. If they click yes then then they are scored on their performance such as the example below.
Correct answers are noted with a green check mark.




You can see it took her 8 minutes to do this. She wasn't focused this activity but had all the answers correct. She can try again or go to the next card


I also wanted to share with you an example of my 2nd graders math Palette. As you can see it is conducive to his level.





The reading is similar in set up but of course the content is toward literature. You will cover Grammar, vocabulary and reading comprehension. My only complaint is that it only goes to third grade.




Both of my children enjoyed the learning Palette games. My preschooler was more excited. She never figured out that it was helping her to learn. My 8 year old enjoyed it for a time but soon realized after awhile that he actually had to solve math problems but then again he is not a big math fan . Now the reading Palette he loved doing.




I really think learning Palette would be great for a review of lessons already learned. I have the idea that this would make a wonderful program for parents wanting their children to keep up their skills over the summer months. You could complete one Palette a day per subject or more depending on your child's interest. I found that my preschooler would compete 2-3 at a time. Where my 8 year old would want to complete one math but a whole row of literature. You are able to go at your individual child's pace.




Overall we enjoyed Learning Palette. I can see using it as I mentioned as a review of topics learned I would love to see more palettes added and to have a preschool section as well. If you would like to read more reviews click the graphic below.



Warm Blessings,

Nikki