Do you have children who have attention issues such as ADD/ADHD? Does your child have Dyslexia, Dyspraxia, Dysgraphia, CAPD, Speech & language delays, Autism, Asperger's, Behavior issues, Sensory processing Disorder or Brain injury? If you answered yes to any of these then you might want to take a look at the Learning Breakthrough Program. A good place to start would be their new book

A Life in Balance - $16.94 (current price)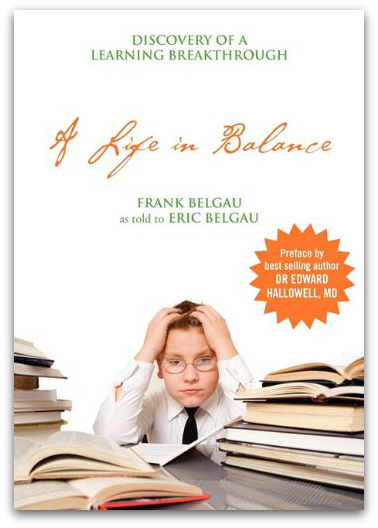 I decided to accept and review this book because I have children who are ADD, ADHD, Dyslexic, have Dysgraphia and have had speech delays. Many years ago when my first child showed signs of learning challenges the first offer on the table was an antidepressant and another emotional altering drug. For me this was not an option. I did not want my children to have to be on prescription drugs for the rest of their lives. This meant that I had to do my own research to find away for my children to succeed. I found that movement and Brain development go hand and hand which is the basis of the Learning Breakthrough Program. I also learned quickly that our diets play a big factor on our child's education as well. With a balance of these things my children soon began to succeed without emotional altering medications.


The Learning Breakthrough Program is unconventional compared to the medication society we now seem to live among. Many are working to break past that to all natural alternatives of healing. Frank Belgau dedicated his life to researching the brain and the body connection as related to learning disabilities. The various body connections need to be put in balance to better organize the brain. By completing "brain exercises" your child will better find that balance rather than with altering medication. The Book A Life in Balance takes us through these findings from the life of Frank Belgau.


It begins with the story of Dr. Frank Belgau's childhood. He struggles to read at an early age. One particular summer he spends much time running around and playing only to resolve his reading issue. In his later research he figures out how this happened. Much of his reading and learning struggle stemmed from a motor skills issue. Very interesting since my son with Dysgraphia can't seem to find balance to ride a scooter and he still doesn't ride a bike at age 14. It took him years to find the dexterity to tie his shoe laces. I think also of my daughter who has dyslexia. I often find her rocking back and forth as she reads and she is in the 11th grade. Could this be her way of finding her balance. I had lots of questions after reading the first few chapters of this 200 page book. Definitely something you might want to read if your child has any learning challenges.


As Frank begins working with children he becomes frustrated that he is unable to help them learn. Yet that is his job to help them through their delays. As he watches and works he realized the connection of brain function through movement. Frank begins to test his methods which seem more like physical education over reading instruction. He walked the children though a series of odd exercises that were to help balance and stimulate the brain. And the thing was it began working. Frank would test a child's reading ability before and after the exercise. As he tested these children he found that it worked. The children's focus and reading skills improved.


With this new information the Breakthrough learning Program was formed. At first it was only available to certain centers and therapies but now is available to anyone. Now you don't receive the Breakthrough program with this book. The book is about the life and beginnings of the program. The how and the way. If you are interested in the program that would be a separate purchase. If you aren't sure if this program is for you then I'd suggest the book as a smaller scale purchase to see what you think. Toward the end of the book Frank explains the how and why of the equipment provided within the kit. So you will be able to see if it's the right fit for your family.


My thoughts:

I would love to review the Breakthrough learning program and try it with my students. However we are reviewing the book. I whole heartedly believe in providing movement to help learning. I read somewhere once that when you are still for some time your brain goes to sleep. So all those times we are telling our kids to sit still all we are succeeding on doing is putting their minds to sleep. Think of how hard it is then for a student with a learning disability to keep their minds focused on the page in front of them if this happens to a normal brain. I am seriously considering purchasing this program for my kids. I would love to try it out and test it myself to see if they read better before and after the exercises. Anything I can try that won't later affect my child's body with medication laden theories is worth the time to me.

My oldest daughter has dyslexia and ADHD. She often as I mentioned before rocks back and forth. Incidentally her dad rocks the opposite way when he watches TV. I am wondering if this movement helps them process what they are seeing. Next year she will be a Sr. in High school. We have come a long way from the days of struggling to read. When she becomes frustrated she often paces or goes for a walk. I wonder also if it is her way of naturally finding the thing that worked for her to get her brain functioning. Isn't it awesome how our bodies often help us to find accommodations for their deficiencies.


My oldest son has dysgraphia and is a genius too. The creativity of his mind is staggering at times. However the frustration can often come in the form of now being able to put pen to paper. Luckily we have computers and typing tools that help with that form of communication. As I mentioned above it took him years to be able to tie his shoe and he still doesn't ride a bike. Coordination isn't something he has been able to master. I hadn't thought to sit down and work on these issues. We work on writing and mastering the skill of reading by practice and repetition but it hadn't occurred to me to work on those motor skills. I knew they were in issue but sine he was board line dygraphic we never received any theory or services for the issue.

And speaking of coordination I believe my younger son has ADHD. (Their dad has ADHD and Dyslexia) I have not had him formally tested because at this point I know the process. The other day we were at a Science program with our local library. The man from the Science center allowed my son to assist. So My 8 year old choose a card and his Science experiment was on coordination. Right here my other two say... Oh no, because my son has little coordination. Playing catch isn't his game and that is what they were doing, Tossing a ball. He missed before the experiment activity even began. They gave him goggles that mess with his perception. They probably won't have needed the goggles. Realizing from this book that my son probably needs to practice some motor skills and the great thing about it is that he loves to play and run. What kid doesn't.

Another thought that came to my mind is that there are so many more children today with these type of issues. I wonder if we are doing this to them. We have TV , internet and tend to lead sedentary lives. Perhaps we should turn those devices off and get our kids outside. The practice of these skills in play seems to be missed. Just a thought. I'll be sending my kids out this summer for sure.


IF you would like to read more reviews for the book A Life in Balance. Click the Crew graphic below.

Warm Blessings,

Nikki