Looking for some Good wholesome books for your young children to read this summer or new readers for your beginning reader for school next year... I might just have some of the cutest books for you to share with your children from Kinder Cottage Publishing. As part of the Review Crew I was able to choose two books for my children to enjoy.

Peter Rabbit and the Little Boy $4.00 (hardcover)

Peter Rabbit at the Farm $4.00 (hardcover)


Kinder Cottage Publishing is a family-owned publishing company seeking to provide quality wholesome and educational books for children. Parents will be surprised at the simplicity and beauty of the illustrations and story line of the books. Kinder Cottage has published a set of the Peter Rabbit stories and the Wizard of Oz series. Their hope is to create a series of biographical picture books and books about the founding fathers of America. If they are anything like the Peter Rabbit stories I would be thrilled to take a peek at them when they come out.

The Peter Rabbit Series of 10 books is a set of short stories about the Adventures of a little bunny named Peter Rabbit. Peter is a very curious bunny and gets himself in some pretty fun predicaments, Always to come home to his mother and his bed. The books were written for children ages 3-9. Each one of the books can be purchased separately for $4. or you can get the entire set for $30. The titles include...

The Tale of Peter Rabbit
Peter Rabbit at the Farm
Peter Rabbit's Christmas
How Peter Rabbit Went to Sea
Peter Rabbit's Easter
Peter Rabbit Went to School
Peter Rabbit and the Little Boy
How Peter Goes A-Visiting
Peter Rabbit's Birthday
Peter Rabbit and Jack the Jumper

The books were originally written by Duff Graham and are now a part of public domain. They were originally published by Henry Altemus Company in 1917. The illustrations are preserved and the language updated for modern audiences.


The first book I reviewed is Peter Rabbit and the Little Boy. The books come as hardbound books slightly smaller then a regular book with a 5 by 7 measurement. Peter Rabbit and the Little Boy is 63 pages in length. I was able to read this story to my child in one sitting. My 8 year old son broke it into two day reading sessions.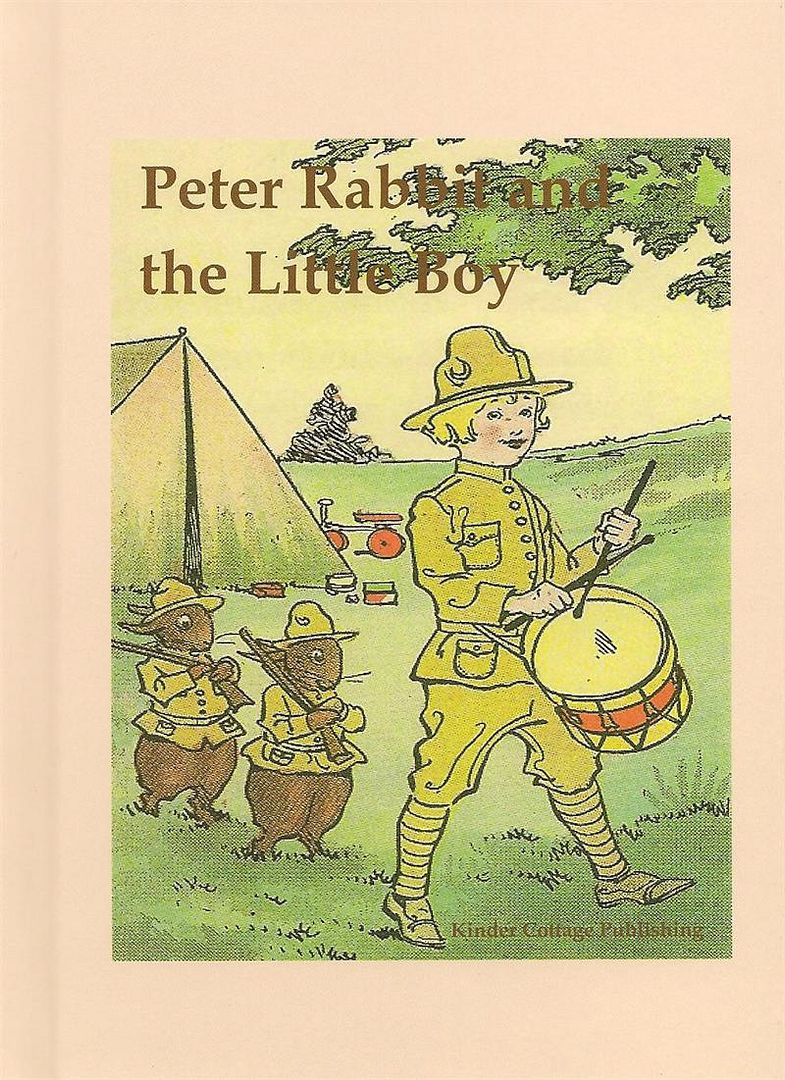 The story begins with Peter Rabbit playing with his sisters when he begins to play a little to rough and the little sisters go tumbling down. His mother brings him in from playing for the day until he promises to be gentle when he plays. (good lesson there) As mother goes about her chores the sisters promise to not go over the hill but to play by the house. Now Peter disobeys because he did not promise to stay by the house. He believes since he did not say the words that it is not disobeying. (A good opportunity to talk about this behavior.) As Peter goes over the hill flying his kite trouble is sure to find him. Suddenly his kite becomes stuck in a tree. He decides to wait until the wind blows it free and travels on meeting his friend Jack the Jumper. Jack the Jumper and Peter have many more adventures. They meet a man who sharpens scissors and the man asks the boys if they behave. The bunnies get looks on their little faces that say it all and so the Man gives them a reason to obey their parents. He states that he once cut off the fingers of a misbehaving child and put it back on when they promised to be good. (Not a fan of scare tactics in getting children to listen.) Soon they meet a little boy who showers them with fun and treats. Only to find it is Mr. McGregors grandson and he is offering a ride from Mr. McGregor himself. Will Peter and Jack the Jumper make it home safely? You will have to read it yourself to find out.


My thoughts:
I really find the Peter Rabbit stories endearing. Peter's adventures give us many opportunities to discuss what he should have done as parents and opens our children up for some good talks about behavior.

There was one little part to this story that I didn't care for and that has to do with the man sharpening scissors. The scissors man is referenced again at the end of the story as the book advises parents to use the story of the Scissors man to warn children not to wander from home. Now I could read this to my 8 year old and he would giggle about it but if I read this one to my 4 year old she might become afraid or concerned. Keep that in mind while purchasing. Just know your child.



The second book is called Peter Rabbit at the Farm. This one was my favorite of the two. I sat down with this one with my 4 year old. She is participating in the summer reading program and I read it to her for her minutes. I noticed lately she has been able to sit through stories and enjoy longer reads than before. This book kept her attention during our reading time I was able to read it in one sitting as mentioned before.
This story again takes us on the adventures of a naughty little Rabbit who gets in all sorts of mischief on Mr. McGregor's farm. Again Peter disobeys his mother and wonders off. He soon runs into Pollie Possum and knocks her persimmons out of her hands. Peter is kind and helpful in assisting Pollie. As he travels around the farm he meets other animals. He comes across little Goosey Poosey who is crying about not having water in her pond. ( My little one thought they should get a hose to fix the problem) Peter takes off his jacket and helps the animals to fix the dam so that their pond will have water in it. Peter meets other animals along the way and does get into some trouble when he falls into a bucket of milk while watching Mr. McGregor's farm hand. I don't want to giveaway the whole story but really adorable for little ones.



My thoughts:

This book we enjoyed over the other one. Peter was helpful in some instances and wasn't constantly in trouble. It was good to see him doing good too. The vintage pictures really fit the story and kept the attention of my four year old. This ones a keeper.



If you would like to learn about the other books in the series please click the graphic below.

Warm Blessings,

Nikki