AAAAHHH That's Music to my Ears ! Do you wonder how you are going to implement music in your homeschool environment? Do you worry because you don't have a music background? Maestro Classics might be just what your family needs.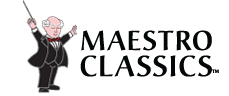 I received Two of Maestro Classics Cd's
The Sorcerers Apprentice
Cd- $16.98
It is also available by MP3- $9.98

-And-

Mike Mulligan and his Steam Shovel
Cd-$16.95
It also is available on MP3-$9.98


Maestro Classics gives the story behind the music with these wonderful music Cd's. Each Cd highlights a composer and his famous piece of work. The works are then presented by

the London Philharmonic Orchestra. The story behind each piece of work engages the child and the music draws the picture in their imagination. You are also given background information about the pieces and the composers, including biographies. Children will learn music terminology, discuss different types of instruments and the mood of various "scenes" with in a particular work of music. Each CD contains narration of the story as it unfolds with music.
The Sorcerer's Apprentice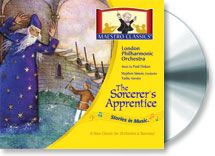 The Sorcerer's Apprentice shares with us the story of a lazy apprentice who uses his masters spells to do his chores. He chants out the magic spell so that the magic will complete his work. He takes a nap and as he does the music and work takes a life of their own. As the water for clean up begins to grow higher and higher. The Brooms double and triple causing complete chaos. The apprentice wakes up to this mess and tries to chant it to a stop. Only to find he doesn't know how to make the brooms stop.

Narration by Paul Dukas
Music by the London Philharmonic

The 40 minute CD comes with 7 tracks and is suggested for children ages 6 and up.

1. The Sorcerer's Apprentice - Story
2. About the Story- A little History about the author and story
3. March of the Brooms- Narration about the instruments and themes used in the story.
4. About the Music- How the composer transforms themes into the music.
5. The Sorcerer's apprentice- Original version
6. Prepare to preform- This is a great idea to use kitchen appliances to perform some music.
7. Play - Along for kitchen Percussion


Each CD also comes with a mini booklet that your child can complete. It provides some history, information about various instruments in an orchestra, About the composer, various games and music . Perhaps if you play an instrument you can try a small portion of the music.





Mike Mulligan and his Steam Shovel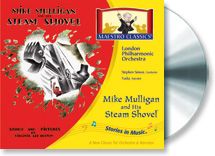 Virgina Lee Burton's Classic Children's story book comes to life with beautiful music score by Stephen Simon. This is one of my sons favorite stories. In the story Mike Mulligan refuses to give us his steam shovel Mary Anne. All the new latest and greatest gadgets our on the market but Mike still loves MaryAnn. So they travel to find a job together. Everyone wants things done faster but Mike strives for better. This is a story of true friendship and loyalty.

This 51 minute Cd is for children 5 years of age and up and also comes as a 7 track CD.

1. Mike Mulligan and his Steam Shovel- The story
2. About the Author
3. Mike Mulligan Song
4. About the music
5. Now that you know a little more
6. Want to have some fun? Prepare to Perform
7. Mike Mulligan Song- Sing along- words in your program guide. (Similar to the mini book above)


How we used the Cd's

During our music time the kids curled up on the bean bag chairs and laid on blankets as they listened to the music. I broke them up into sections because I wanted to get the most out of the music. We listened to the pieces more than one time and the history. It didn't take long for the younger kids to get comfortable with the music and soon began to dance around to the songs. Sometimes they even would act out what was happening form their own imaginations. After listening to the CD's we were able to do a few of the projects that were suggested along with the CD's on the product's website. I noticed a little to late that a Journey through Learning has lapbooks available for some of the pieces. I may just do more with these again next year using some of these resources. I was able to find so many.

Earlier this year my son and I did a mini study on the Sorcerer's apprentice. We used a story map that I found online to work through as we listened to the piece. So when I saw this one I thought it would be a great follow up. We did not have the history or the background. He was pretty excited that he remembered the piece. This particular piece also has the section where the kids can create a kitchen band. Now we have a box of musical instruments and the kids are always looking for reasons for me to pull the tub down for them to play with. So I played this section (7) a couple of times so that they could practice playing along with different tools. My son has no rhythm or music tone at all. He is all over the place. We have been working on finding the beat and playing along is a good way to practice that. The Young ones (age 4 and 8 had a great time with it. )
The older kids sat and enjoyed the listening sections. Sometimes I would lose the four year old the informative section. She would usually dance along to the music. It was great because all the ages could be involved at their own levels.

Now you must know that my son (8) loves anything construction and he loves Mike Mulligan the story. I honestly Had no idea that there was a musical piece that could go along with it. I pulled out the story book and we read the story together. Then I begin playing the CD. Spirit remembered the Sorcerer Cd and was excited that we had another and to his favorite story book. This CD had a similar format. We were able to listen in the car as well. Especially on shopping trip days. The only downfall with that was they didn't want to get out of the car at each stop.
Track 7 of this CD is the Karaoke music to Mikes Song. The kids learned rather quickly. We added the element of dancing and singing with their scarves. I have various colors that I pick up at Yard sales. The kids love playing with them. They are just like those silky's you purchase for play only I get them for $1. or less. (Just a tip for your music time) 
We really enjoyed these music CD's. I felt like they were light and something that I could easily implement into our homeschool. I also liked that I could make them into a big unit study if I wanted to dig deeper into the music. As I was doing these I was thinking of all the things that could be done as break off from the original activities. So the question is would I purchase them for our own collection and I would have to say yes to that. I really would like to get the entire collect. Starting with Peter and the wolf and maybe Swan Lake. Really I can't decide I want them all. I think these CD's are something we can enjoy over and over again and learn something at varying levels of the kids education.

If you would like to learn more about Maestro Classics and hear about some of the other selections click the grapic below.

Warm Blessings,

Nikki