Teaching a child to learn their ABC's and their phonetic sounds is a real joy. It is an abundant moment when your child begins to put those letters to sound. It is the beginning of their academic career and that is always so exciting.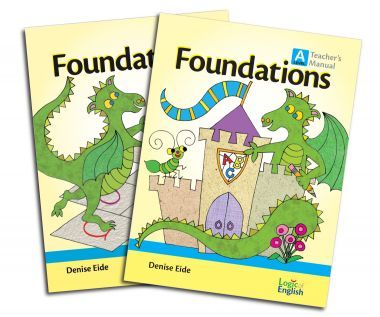 Logic of English
- Foundations A has simplified the process. They have laid out the plan for you so that you can enjoy your time with your little ones. 
The Foundations, Level A has the Teacher's Manual -$38.00, student's workbook- $18.00 and the extra hard backed book Doodling Dragons: An ABC Book of Sounds - $15.00 and the price is $71.00 for all of the books. The age range suggested on the site for this program is 4-7 years old. Included with the review I was also given the
Reusable Resource...

Basic Phonogram Flash Cards, $18.00
Manuscript Tactile Cards, $28.00
(also cursive tactile available)
Half size white board, $9.00
Rhythm of Handwriting Chart, $10.00
Blue Book Face Game Cards, $10.00
Red Manuscript game cards, $10.00
About the Program:

Foundations A begins by teaching your child the lower case letters from a-z. They will begin to read and write letters. They will play various games and perform different activities to begin decoding the sounds. By the end of the curriculum your child will be able to read 25 high frequency words, spell and read short vowel words, consonant blends, and comprehend simple phrases.


There are 48 lessons, 40 instructional lessons and 8 Assessments and review lessons. 22 phonemic awareness games, 28 phonogram games, 10 reading comprehension games and 2 high frequency word games. Children may need to also have with them extra dry erase pens, eraser, Crayons, glue and scissors to complete the activity in the workbook.

In the teacher guide each lesson begins with objectives for that lesson and materials needed. There are times you may need optional items such as a mirror, legos, various toys or a book like Dr. Suess.
These activities are under the optional category but only enhances what you are doing with your child.

In the guide you are given exact wording as to what you will say to your child and how you will implement the lesson. On the right hand side of the page you will find color boxes that share with you teacher tips , book lists , sensory fun, speech tip and vocabulary.

Your child will begin by practicing sounds verbally , then work on writing them on the LOE white board or in the workbook. The workbook provides various lines so that the student can write at their size. They can choose which size is comfortable for them. You can have them write all of the sizes or just choose one or two that works best for them.

As mentioned above there are also games you can play and activities you can do with in the workbook such as finding sounds, matching sounds to letters or picking out word pictures that rhyme.
How we used Logic of English:

(And will still be using beyond the review period)


I am using Logic of English, Foundations A with my preschooler. She is four years old and will be five in August of this year. She has been a bit of a late bloomer. She is the youngest of 5 children. When we started out I was afraid that she wasn't ready for the writing sections but as we went and she grew it has become something she can do. The beginning pages start out with curves which can be difficult for younger children to start with. We completed the workbook Activity pages in those beginning pages and skipped the writing curves for now. She was able to handle the word games we played so we played them often. I took this curriculum at my daughters pace. She may have gone slower or we worked on the same concept for a few days before she would get it. I have a couple of kids in our family with dyslexia, adhd and add. So I am used to working at the child's pass. It was very workable for her level.

We also enjoyed sitting together and reading through the doodling dragon book. As she began to recognize more letters and starting to match sounds the book became more fun for her. Below you see her on the right enjoying doodling dragon and to the left she is playing one of the games on Unit 12. For this game she is playing guess the food. The teacher guide provides some questions about the sound the picture word will make. For example... "I am thinking of a food that begins with I. Which food begins with the /I/ sound? Course she pointed to the Ice Cream.
There are other fun games through out the book that reinforces the concept of the day. At times we would go back and play a game again as a reminder of if she forgot a particular sound. 
Her favorite activity was to write on her dry Erase board to practice her writing. As you can see she mastered the curve with the writing of C in her lesson 12. In the photo to the left you can also see the Red C card from the game cards. I would often pull one out for her to use as she wrote her new letter on her board. Our week might look like this again much slower than you would probably need to go but this is what worked for my girl.


Our Schedule


Monday- Talk about letter sound, review doodle dragon , and play a game

Tuesday- Review sound again with the same game as a reinforcement, then work on writing on the dry boards.


Wednesday- We would write in the workbook and practice our letters and review the sound again.


At this point she probably will have it but if not we
continue on Thursday and Friday with various other activities sound activities along with more writing.

The great thing about Logic of English is that we could work through it at her pace . She really enjoyed the games and activities. 
Will we continue with LOA. Yes, we are going to finish this book and then hopefully move into Logic of English B. As long as she continues to love it like she does right now. She begs me to do "her school" with her. I even heard her argue with her brother that she loves school. She is at that point where she is ready to soak it all in


If you would like to read more about Foundations A
or if you would like to take a peek at other levels then click he graphic below to read more reviews.

Warm Blessings,

Nikki