I will be honest with you history is one of my favorite subjects to teach. It is funny because when I was in school I disliked history. I think that I love it so much now because as homeschoolers we can really dig into history with a lot of hands on learning.

Of all the time periods in history my very favorites come from American History. I have tired a lot of different history curriculums over the years but I would like to introduce to you the Company Golden Prairie Press
and share with you their Curriculum.
Digital Heroes & Heroines of the Past : American History Curriculum
a $98.99 value. This includes
Heroes and Heroines of the Past Part 1
1000-1837

Heroes and Heroines of the Past Part 2
1837-Present
Heroes and Heroines of the past is a hands on American History Curriculum that makes history simple for any homeschool parent. The curriculum is thirty weeks in length beginning with Native Americans , moving through explorers all the way to the here and now. The first Book Part 1 is 388 pages in length and Part 2 is 408 pages. As you can tell there is a lot of content within this curriculum. The curriculum is for children 1st grade to 6th grades. Although I think it could be modified for younger or even slightly older students. Each history lesson is divided into two sections. The first section has a larger font for early Elementary students and the next section has the same information but at a different level for 3rd-6th graders. Heroes of Heroines uses living history through stories and various activities. When there are difficult words Definitions are provided with in the text and a suggested memory verse. You will step into history with many hands on activities. You will examine historical Art, play games, complete crafts , sing , act out skits, Listen to history, and complete experiments . This curriculum takes you across education by including writing assignments that will help your child remember the information presented.
There are Questions as well to see if your student is comprehending what they learned. You could do these questions verbally or have them write them in a notebook. All of the answers to the questions are in the back of the book. These history lessons take about an hour to complete. Sometimes it took us longer depending on what we were working on.
What Supplies will you need:
You might need general school supplies like pencils, crayons and paper. You also will need a printer or have the ability to print out the various timelines and activities. Your computer also should have speakers and volume for the songs and listening activities. Along with the software to listen to them. Each activity in the guide has the supplies listed so that you can easily see what is needed for that week. There may also be book suggestions that you might want to pick up too as additional reading.



Historical Skits Volume 1
There are 19 skits in this volume. They begin with Columbus and go to World War 2. My boys had a good time with these. ( More on that in a bit.)




Sing Some History

I really liked this part too. The kids can sing some of the old songs from history. There are 20 songs on the CD such as Yankee Doodle, Hail Columbia, Tippecanoe and Tyler Too, Oh! Susanna and many other good songs. There were many I sang as a child and love that this is included in the curriculum.


Listen to Some History
Children will also have the opportunity to listen to various speeches in history, poems, sermons and documents. It helps the child with understanding complex words or older style writings. Your child will hear Mayflower Compact, Model of Christian Charity, Sinners in the Hands of an Angry God, On the Method of Grace, To King George on the Repeal of the Stamp Act, To My Dear and Loving Husband, Give Me Liberty or Give Me Death and The Midnight Ride of Paul Revere, just to name a few. Along with several stories related to the historical time period.



And Additional Materials Download

Here you will find timeline printable (which I love) instructions , videos, artwork, coloring pages and much more.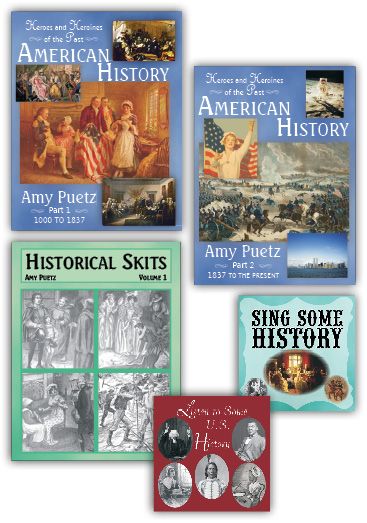 How We used it:

We typically do a block style schedule for History and Sciences. So We worked on History a little each day during the time frame of our review. I used the curriculum with my 2nd grade son and my 7th grade son. My 7th grader is older than the suggested age but it worked just fine. He likes to work with his little brother so it wasn't an issue at all.

We started out by reading from our history text about Native Americans. I would print out the pages for each child's reading level. The boys took turns reading. My younger son read his first and then my older son read his. I think them hearing both versions helped them in understanding and remembering the history . We would then read our memory verse which I put on an index card and posted on our refrigerator so the boys could see it daily and review it easily. At the end of each section we would answer questions verbally and then do the writing assignment in our notebooks. Which we deemed History Record Notebooks. After that we would complete other activities that were suggested like a craft, song, listening activity etc...





This is my older son with his Tepee. The boys were to make a large one that they could go inside but we didn't have the large sticks available to us. The kids used sticks from the yard and made mini tepees.





This is an example of Christopher Columbus coat of Arms. Here Spirit had colored it and is sharing it with you. This Activity is one from the Additional materials activities. We did have a little trouble printing this one. I think only because the print was slightly off of black and I only had black ink. I am sure if you have color it would have printed nicely for me. There are so many activities in this e-book but it is organized well and easy to find.


The song book and listen book were good too. The boys didn't get into the singing to much like I had hoped but they still enjoyed listening to them. What they did love was the skits. They had a good time acting them out and just being silly boys. I liked that the boys were reading and cooperating all the while learning history.



We enjoyed Golden Prairie Presses hands on approach to history. There are so many activities you can do with American history that it was nice to have it narrowed down for me and ready to go.


If you would like to read more reviews click the graphic below.





Warm Blessing,

Nikki