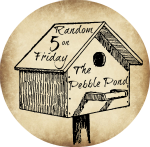 No photos this week just some randomness.
1. So we went from winter right into the rainy season here in
PA. We have had rain now for the last 4 days. I know it is needed
for those spring flowers to bloom but I'm ready for some sunshine.
2. My son right now is working on Claymation beside me. I have no
idea how he does it but he does.
3.Starting to think about next years school plans and what activities
we might dig into. Next year I will add a student and have a preschooler.
She is ready to do a few simple activities.
4. Getting ready for Easter Fellowship activities at our church. I have nothing
prepared so far and only 3 families registered. However it is always like this
and before I know it I will have 60 families registered.
5. Today I plan to cut Sweet Peas hair. Her bangs are in her eyes.
It's time to do something.
Warm Blessings,
Nikki