Linking up with Miranda to post five Random things
about our week.
1. I finally got a hair cut. It was to the middle of my back.
Getting ready for the warmer weather.
My 8 year old got this do. Although he doesn't always have it
sticking up like that that was just for fun.
2. God gifted us with this amazing rainbow. It arched the entire way
across the sky. My camera could not capture how vivid it was. It
was truly a gift.
Close up of the colors. God is so awesome.
3. Over the weekend we went to my dads egg hunt. At this hunt
the kids can get their pictures taken with the bunny and then hunt
for real hardboiled eggs. Afterwards we went to my moms to have pizza
and hang out with friends that came along.
Spirit ready to go...
Sweet Pea after the hunt.
4. We also organized and had crafting and an egg hunt for the kids
at my church ... It turned out to be a fun event as usual. This is a shot
of the room taken by a friend. Crafting stations all around. It always takes
me all spring break to get ready for it. But well worth it.
My son and his best friend at church.
5. My next Event activity to plan for will be the Blessing
of the Bikes . I will need to plan Games and activities for the
kids while the grown ups socialize.
Maybe you would like to join in on some Randomness with
the Pebble Pond. Click the graphic to join in.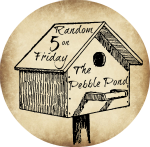 Warm Blessings,
Nikki