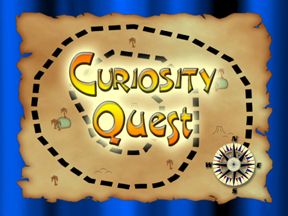 Kids have lot's of curiosity. They are always wanting to know
how things work. Sometimes mom and dad might not know the
answers to their complex questions , but perhaps the creators of
Curiosity Quest can be of some help. I viewed two of their dvd's in
exchange for a review. They both were both Combo Packs with three
videos on each dvd from the show Curiosity Quest.

DVD Combo Pack - Produce- $24.95
(Cranberries, Oranges, and Mushrooms)

DVD Combo Pack- Swimmers of the Sea- $24.95
(turtles, penguins and salmon)


Curiosity Quest is a fun educational, family television show that
explores what you the viewer is curious about. Joel Greene is the host
and he takes you through the exploration of the question the viewer
submits to the show. If you are selected he will teach you all about the
topic you wondered about on a virtual tour of the location. Included in
the video is basic vocabulary of the topic, mapping, fun facts and
question and answers by area children. Sometimes the kids are way
off in their answers and are pretty cute. Sometimes they are right on
and typically there is a little bell sound so you know which child is correct
in their answer. Other times the show continues to share the answer on the
field trip to the locations. Curiosity Quest is for Children and parents
of all ages but is geared toward children 7-14 years of age.



The first DVD Combo pack we began watching is from the Produce
package. I brought I up on our laptop and was able to select which
one of the three videos I wanted to watch. We started out with ...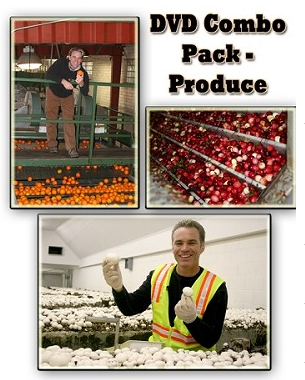 Mushrooms


Joel takes you to Watsonville California to the home of the largest fresh
mushroom grower Montery Mushrooms. You will learn much about the
mushrooms. The tour takes you through the entire process of growing and
shipping mushrooms, to all the care of handling and growing them . You
will learn all about the proper conditions a mushroom needs for growth and
about the different stages. Joel is put in some funny situations of cutting
mushrooms and helping to prepare them for shipment. He learns how many
mushrooms are prepared per hour and soon quickly realizes that he could
not keep up with the demand. Joel also went to Royal Oaks where he
learned about Packaging. We also learn about Portabellas and Joel even
gets a chance to taste one.

Some of the other topics you will learn about are...

* What is the first step of Growing a Mushroom

* What is a mushroom

*What is the Harvest

*How big can a mushroom Get?


Some of my kiddos will eat mushrooms and others will not. Their
daddy is a fan but mommy is not but it was still fun learning about
how they were grown even for this non-mushroom eating mom.





Cranberries

Out of all the produce this is the one I was most curious about. The
kids as well. Here Joel takes you to a farm in Wisconsin. It seems to be
pretty cold there and is snowing and Joel references the temperature a few
times. Must have been pretty cold there. We learn that the Cranberry
comes back each year and I always wanted to know why they were in fields
of water. I often see the cranberry commercials and wonder why? You will
find out why in this video. You learn all about their growing season just
like the Mushrooms, the right conditions and temperature. We saw
how the cranberries are collected and Joel had a race with the
gadget here in the photo verses a tractor. I wonder who won? (hee hee)
We are then taken to the factory and learn about how to tell if a
Cranberry is ripe and what the correct size for a typical market
cranberry . The kids favorite fact was that a cranberry will bounce
if it is ripe. The cranberries get four trips around the machine
ride to jump into the ripe side. The kids loved this concept of
sorting them. Some of the topics that are presented...

* What does buoyant mean?

*What do Cranberries taste like?

*What does harvesting mean?


My grandmother makes the best cranberry sauce at Thankgiving so
all of my kids have tasted cranberries before. I love cranberries especially
cranberry juice. During Question and Answer many of the kids hadn't tried
them. Make sure you allow your kids to try things even you don't like.






The last produced we learned about was Oranges

Orange Packing


This time Joel takes us to Gillette Citrus company in Dinuba, California to
learn all about how Oranges grow, how they are washed, sorted and packed.
We learned that an orange can be damaged easily on the outside when
picking and handling you must take great care in protecting their skin. There
is a special way to cut them so that no stems are still attached. You wouldn't
want a stem to puncture other oranges in the bag or box. We learned about the
various kinds of oranges and when they were to be harvested. At the time of
the shooting many of the oranges weren't quite the right color. We are
shown how they get the oranges to turn orange if they won't on their
own. We watched machines sort them by size and learned the good
ones from the bad ones. Other topics presented...

*What is your favorite type of orange?

*What type of climate do oranges grow in?

*Do you have fresh fruits and vegetables at your house?

*How do oranges get to the supermarket.

My kids love oranges. They beg me to get them and eat them
on a regular basis. I think my 16 year old probably eats one almost
every day for lunch.




The second DVD Pack combo was called the Swimmers of
the Sea. Recently in conjunction with this dvd were able to
visit with a marine biologist through our local parks system so this
was a great ad on to that lesson.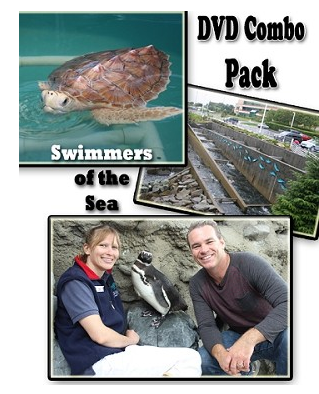 Penguins


A few years ago the kids and I did a lapbook on penguins the younger
ones in particular love exploring animals and the way they live and survive.
This time we had to Monterey Bay Aquarium in Long Beach, California to learn
about and take a look at the penguins. The Penguins we get to visit do not like
the colder climate but thrive in warmer weather, which is perfect for living
in CA. The Megellanic penguins at this Aquarium seem rather tame and
readily approachable. They probably selected some for the show. Joel learns
all about the food prep, what they eat, and how much they eat. He was
taken into the aquarium to learn hands on how to feed them . The
aquarium keeps exact records of each penguins feeding. Joel also
was able to touch one of the penguins. While there we learn about their
body structure, proposing, and preening.


Other questions learned....

* What do penguins eat?

*What does it mean to molt?

*What does a penguin sound like?

* What do they feel like?

* What is husbandry?

*Why can't penguins fly?




Sea Turtles



We just love turtles here. We have one of our own of course not a sea
turtle. The kids are always fascinated by them. This time we head to a Turtle
hospital in Marathon, Florida. We find out about animal rescue, rehab and
release into the sea. We learn about how many turtles come to the hospital
each year and how many were there since the hospital opened. We find out
what they eat, what their nose feels like, where turtles lay eggs, how they
hatch, and various things about them. Some of the situations are rather sad.
Sea turtles are endanger animals and we are not aloud to touch them but
the hospital has a license to touch them while they are there so they
can help them.


Other facts touched on...

*How do sea turtles eat?

*How much can a sea turtle weigh?

* How can you tell if it is a boy or girl Sea turtle

*How long can they live?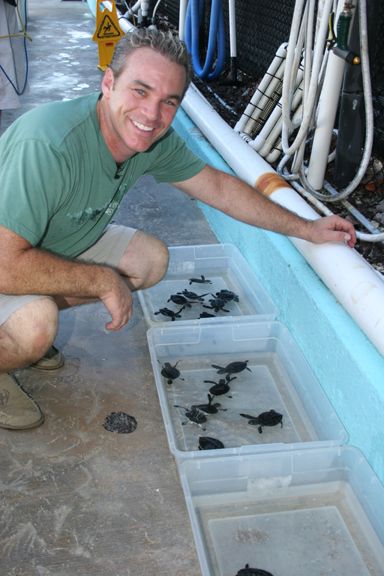 These are the paper sea turtles the kids made at the talk with the
marine biologist. They learned so much about turtles.


Salmon
We had seen documentaries on Salmon before so this one wasn't as
interesting to the kids. Only because they already know a lot about them.
Otherwise I think they would have enjoyed it just as much as the others.
Recently we had done a study on dog sledding in Alaska. This would have
gone great with that study. I did see there is a DVD on dog sledding. We
study the Iditarod every year so we may have to grab that one for next year.
On this journey you will find out about the life cycle of salmon. We learn that
wherever they start out they imprint that into their memory and will return
there to reproduce/spawn. We find out why hatcheries such as this
one exist and how long they stay in this habitat. It is interesting
to note that salmon can live in fresh water some of their lives
and the sea another part of their lives.
Other topics presented:
* What is imprinting?
* When do salmon lay their eggs?
*What is a net pen?
*What do Salmon eat?
What we Thought of the DVD's and How we used them


I used the DVD's with all of my kids. They all wanted
to watch. We staged a curiosity Quest night. The older kids
were armed with clipboards to write done some
of the interesting facts. The little ones watched. My kids are
4, 8, 14, and 16. As we watched the cranberries episode I
realized that I had watched that one before with one of
my kiddos. I realized soon after that our PBS station airs
these shows. I was able to go to the show site and
find out times for the programing. The kids were pretty
excited about that. However , having the DVD has it's
advantages like with our marine study. We were able to
view just the right one for our lesson about Sea turtles.
It was nice to have an accompanying activity for our study.
I loved the DVD's and like I mentioned before I am hoping
to pick up the sled dog one too. There are others in the
collection. I will have to make a list so I remember them for
some of our future studies. They are gear toward the kids
and keep their attention. I am thinking the next time we
use them to create notebooking pages for their use.
I like the humor of Joel in them. He has a humor the kids
will like and talks to their understanding. Definitely
one we will view again and again.

If you would like to read more review about Curiosity Quest
click the graphic below...








Warm Blessings,

Nikki