Oh Algebra many homeschool parents nightmare. Often
with new homeschooling parents I hear...
"This is fine for now ,I can teach Elementary but what about
High School. How will I ever teach those higher levels of Math?"

It might not be as hard to do as you think. Maybe you as the teacher
have not had Algebra in years or perhaps you never had it. There is
nothing to worry about if you get stuck. Check out
ScienceandMath.com
.
You will be able to learn along with your child or you can send them
on their way to their own private tutor with the
Algebra 1, Volume 1
physical dvd. This is a 7 hour course with step by step instructions.
The Algebra 1 Volume one dvd is the first part of a two part dvd series.
You can purchase the physical dvd such as the one I received for $26. 99
originally listed at $31. 99 . That's a 16% savings. The course is also
available for download for $23.99. There are other courses on the site
from 4th grade all the way to 12th grade and Science as well.
You will also want the accompanying worksheet pages that go with the
dvd those are the
Fractions thru Algebra Companion Worksheet dvd
.
This is a downloadable file for $21.99. It is strongly suggested you
purchase both the dvd and the worksheets for optimal use.
I specifically received the Algebra 1 Tutor dvd and downloadable
worksheets. I was able to play the dvd in my laptop. As long as you
have a dvd drive you should be able to view it. You can also use any
dvd player. You will need a printer to print out worksheets or you can
bring them up on your laptop and work on a piece of paper or wipe board.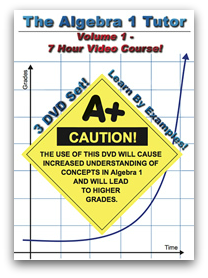 What is covered:

The dvd begins with fractions assuming you know nothing about them
and works you through the lessons step by step via video instruction.
You will find three disks with your Algebra 1, Volume 1 set and this
is what will be covered on those disks.

Disk 1
Section 1: Real Numbers and their Graphs
Section 2: Fractions
Section 3: Exponents and Order of Operations

Disk 2Section 4: Adding and Subtracting Real Numbers
Section 5: Multiplying and Dividing Real Numbers
Section 6: Algebraic Expressions



Disk 3
Section 7: Properties of Real Numbers
Section 8: Introduction to Equations
Section 9: Solving More Equations
Section 10: Simplifying Expressions to Solve Equations

The Tutor dvd seemed to align with the text book we had been
using and the site suggests that it should align with most curriculum.
What I especially liked about the dvd's was that I could load in the
dvd we were working on and click the words to the video we wanted
to view. It made it simple to locate what we wanted to begin working on.




How we used Algebra 1 Tutor:
My daughter Princess worked through the Algebra 1 Tutor,
Volume 1 dvd on her own. She is 16 years old. You could use it with
students 7th grade and up, perhaps 6th if you have an advanced
math student. Princess has dyslexia and has overcome much over the
years as far as academics go. She used to do a lot of number reversals
and reverse concepts when they came in two part forms. Step by step
is essential for her math education. She had recently completed
a course for Algebra 1 but we felt. (she felt) that she was not quite ready
yet for the Algebra 2 course. She was confused by many of the concepts
represented. So we willing dug into the tutor dvd. She wanted to do this
on her own . She is older now and likes to try to do things alone. Basically
each day she would put the dvd into the laptop. Click the lesson she wanted
to view and sit and watch the session. On occasion she would jot down
notes for her own reference. She actually whizzed through the beginning of
the dvd so we were able to get to section 8 by the end of this review period.
Jason Gibson is the instructor on the videos and he is very clear in his
explanation showing the steps on the wipe board behind him.

Princess stated after the first few lessons that "He explained things
so that I could understand them. Algebra seems easy to me now. "

The videos themselves were about 30 minutes or so in length. Very
manageable for one sitting. She would then print out the worksheet
for that section and work through the problems. What I liked most
about the worksheet was all the space available for working out the
problems . There are only approximately 3-4 problems per page. If
needed you could split up the worksheets. We did the entire thing at
one sitting , which took her sometimes and hour to complete with the
video and worksheet sometimes less depending on the topic.



Below is a worksheet page from section 8. 

At the bottom of the worksheet section are the answers for review.
Each section comes in a different file. So you can open and
print out as needed. We printed the pages she needed and then
I kept the teacher guide part. I like how the answer is explained by
the steps for each part of the problem. (see below)
Here is another page from her worksheet. As you can see she
didn't quite complete problem 19. She was stuck. We were
able to work through and finish the problem together later. 
The answer guide helped me walk her though it. She had
the three but was unsure of the negative. She always reverse
- and positives when working with those. Adds a different challenge
to the mix when doing math.

Our Overall Thoughts:
Overall She enjoyed working through the dvd. Princess mentioned
to me that she would like to have volume 2. So that looks like that
might be our next purchase for our school. We both really liked that
the math was explained in an easy to explain fashion. I was happy that
it was set up so that she could succeed.




If you would like to read more about ScienceandMath.com Click the graphic
below to read some of the crew's thoughts.




Warm Blessings,

Nikki