Each year our church sponsors an annual egg hunt for our community
and church family. This event has generated quite a crowd for our
small town and I have been the coordinator for the last Oh my
7 years or more. I open the church for crafts and games an hour before
the hunt so we can minister to the children and then we hunt for eggs.
I had never heard of Egglo Eggs before or Egglo Entertainment. It is
an Egg Hunt program designed to keep Jesus the focus of Easter. Now
we have always kept Jesus our focus with the activities but the hunt that
was a difficult one to keep about His love and light....


This product is for children approximately 4-13 years of age.
My children using this program are ages 4, 8, and 14. 


The Egg-cellent Adventure Storybook and
Audio Download

About the book:

Our story starts out in the home of a family just like ours, with messes
and children running around. The family is together preparing for their
Easter celebration. Hardy, Anastasia, dog Zeke and their cousin, Pascal are
so excited for the egg hunt that evening and can hardly wait till the event
occurs. Mom explains to the children that they will have to wait and she tells
them all about the Glowing egg hunt that will take place. Mom wants to tell
her kids more about Jesus but they are just to anxious and excited about the
eggs. So she sends them to the attic to find a board game. While they are in
the attic their adventure and scavenger hunt begins. They come across a
treasure chest and a colorful glowing egg. As they touch the egg out appears
two scrolls. One of the scrolls has a bible verse for them to ponder on
their journey and the other one gives them a clue as to the destination that
they may be exploring. Before they know it they are exploring places such as
the pyramids in Egypt, Easter Island, and an under sea adventure. They
cross a scary rope bridge and run from volcanic lava from an active
volcano. As the children go on their adventure each of the scrolls
help them work through the next situation and teach them a lesson
from the bible . A lesson they can use to improve their character. Their
treasure hunt finally ends at the cross of Jesus and with this bible verse.

"In Him was life and the life was the light of men.
In light shines in the darkness,
and the darkness has not overcome it.


John 1:4-5

The children realize that what they were seeking all along was the
treasure that is not of this world, The love and life of Jesus Christ.



How we used the storybook:


My children gathered around the sofa and my oldest son Superboy
read the story to the little ones. They love to be with their brother while
he reads to them. Later on another day they sat and listened to the audio.
Sweet Pea (4) had a hard time following the story and really understanding
the verses but I do think it is always good for little ones to hear them. One
day it will make sense to them and the pieces will come together. 

The Egg-cellent Adventure Program Guide

The program Guide is a 60 page curriculum for your Glow in the Dark
Easter Event. This guide will help your family or your church prepare for
your activities or event. The guide contains coloring pages, bible verse scrolls,
snacks, discussion cards, invitations, and various other activities. The guide
gives you step by step instructions for setting up your event. Now as I told
you before I have been doing egg hunts for several years. Typically I don't
decorate a whole lot. In the past we would do some streamers in the door way
and a few spring flowers around the gym area where our activities take place.
I really liked the printable eggs. I can print those out and tape them on the
walls around the room. There are also blank ones that the children can create
their own art on paper eggs. Now there are plenty of other options out
there that have to do with glowing. It's a little late this year to set up a
glow event for us. For snack every year I bake sugar cookies and allow
the children to decorate them. I was happy to see some
different snack options.



Our Snack at home:

We decided to try the light of the world snack. Now we were supposed to
have pretzels but we forgot that part. The kids didn't care at all. They
dipped their marshmallows in and created fork torches. We then
discussed what it means for Jesus to be the light of our worlds. It is also
suggested to add sprinkles but the kids choose not to use them.




More on The Program Guide


The guide gives you ideas for the opening program and devotional.
There is an object lesson, game ideas and questions written for you
to ask the children. Get them thinking about the real meaning of Easter.
After those section you have pages and pages of printable that you
can use for your activities. Many ideas there that you can do with your kids.




Glow in the Dark Eggs and Treasure Scrolls


For your $9.99 you receive a box of 12 Glow in the dark eggs.
The eggs come in a nice little cardboard box which I found nice
for storing. They come in blue, pink, green and yellow. Each
egg has a cross on the front of them. Now your eggs don't come
glowing you have to charge them yourself . They will
charge in various lights but the best light source was the sun. The
eggs seemed to glow longer after exposure to the natural light. We
tried at first to put them under the lamp light but the glow ended before
our egg hunt was through. We had rain that particular day. I tried using
black light too but our black light is a bulb and not the long lights so it
was difficult to activate all of the eggs. I don't have as fancy of a digital
camera so I was unable to take a photo of the glowing eggs but lucky
I was able to obtain one through the crew so you can see what the
glowing eggs look like.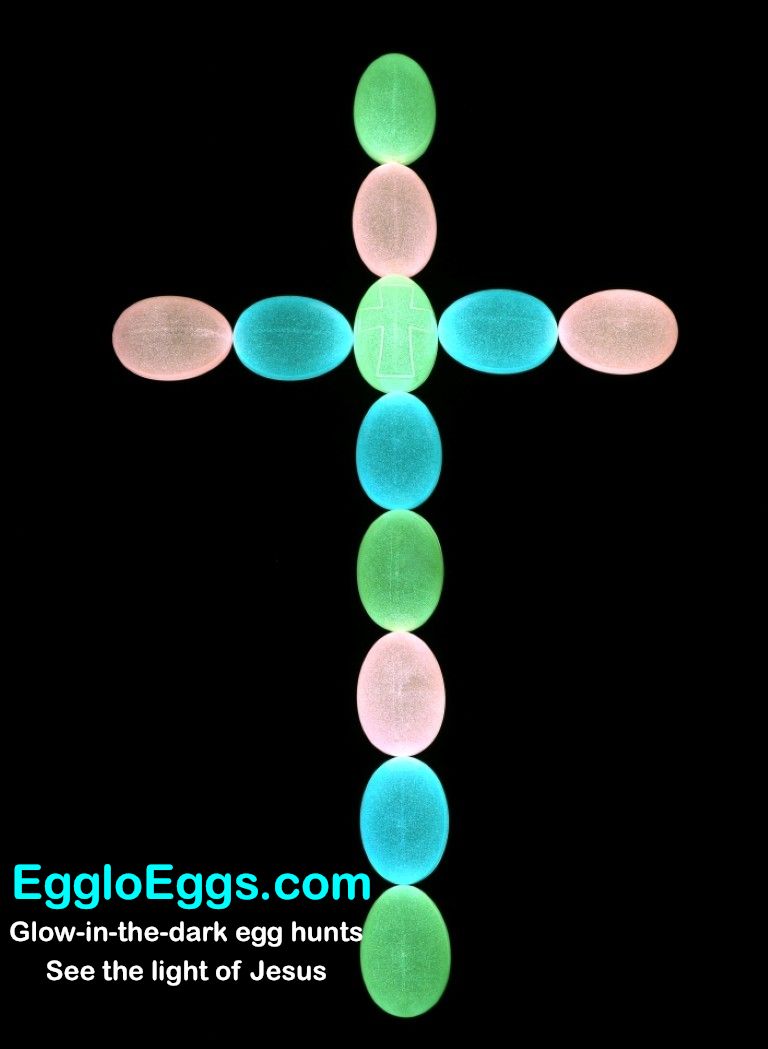 Treasure Scrolls



The treasure Scrolls come in a package of 12. The scrolls fit nicely
into the egglo eggs. There are also paper scrolls with in the program
guide. The scrolls are based on these verses 1 Corinthians 15:3-4,
Deuteronomy 6:5, proverbs 3:5-6, Matthew 5:16 and 28:20, John 1:4, 1:5,
3:16, 8:12 and 12:46. There are 12 verses in all. You can see the package
of scrolls in the photo below.
How we used the Egglo Eggs

I set up the hunt one evening . It had been raining so I charged
the eggs under regular lamp light. We have a large room that we
use for just hanging out in so this was perfect for our hunt. Since
there were 12 eggs and 3 kids participating I wanted them to be able
to find more eggs. So I placed the scrolls in the egglo eggs and then
put the stickers that came with the package and some candy in some
non glowing eggs. I had not gotten our Easter tub just yet from the
attic so we used plastic bags to gather our eggs. I turned the lights out
and had the kids locate 4 eggs each that were glowing. We stopped
there in the dark with our flashlights and read the verses trying to
remember what each one meant or what we thought they meant to
us and how we can apply them to our lives. We sat in silent prayer
over Jesus life and resurrection. Then the light was on
and they were able to pick up the rest of the eggs.
Our prayer time there in the dark really helped us set the mood
for keeping our focus on Jesus through our activities. We also
prayed after the hunt thanking Jesus for our gifts.

More Easter Ideas with Egglo Eggs.


I really can see using these eggs in various other ways in
ministry. I thought of a few here.
1. Put other bible verses in the eggs and tell the story of Jesus
Resurrection or even his birth. I am sure you have seen the resurrection
eggs. We have those that tell a story with an item inside of each. You
could transfer those to the eggs with the verse to look up and then use
your bible to tell His story.
2. For younger children you could place a picture of the new
testament stories in each egg and hide one per evening for your
child to find as an opening to a story. A fun way to get them
excited. I am thinking it would be fun to do this right before bed
time . They can find their egg and then settle in for their story.
The egg can glow for them as they head off to sleep.
(This one is highlighted because its my favorite.)



3. Place one word of a bible verse into each egg. Have the children
locate the eggs and then open the eggs to find the words to the
verse. Have them try to unscramble the words to create the bible
verse.
4. I thought it would be great to turn the eggs into fireflies.
I think it could be associated with Jesus and following his light.
When we try to catch the fireflies we look for the light just
like we look for the light of Jesus. You can simply put pipe
cleaners around the egg to create antenna and add sticker wiggle
eyes so each child could take home a firefly to remember to seek
the light of Jesus.
5. Put rice inside the eggs and use them in an evening Easter program
Shake them along with one of your songs. It would make a
wonderful ending to the program. The kids could wear other
glow lights as well.
These are just a few I am sure I could think of more as I work
with my children learning about Christ.
Ideas not for Easter



1. Put sight words in the eggs and find them then read them.
2. Use them for some glowing activities with the Story Green Eggs
and Ham
If you would like to find more ideas for using Egglo Eggs. I created
an Egglo Egg Pinterest board. You can find that board by following
me on Pinterest. The button is on my sidebar. I have moved the Easter
boards to the top for you to easily locate.
My Thoughts


The kids really enjoyed the Egglo Experience. The activities kept
them engaged and learning about Jesus. The only thing I was unsure of
was the magic that was placed in the storybook. I also would have loved
for them to visit some places that had a biblical purpose. Overall though
the kids loved the Glowing Eggs and it created an excitement to the
activities that would keep the children engaged. I am still trying to figure
out how I could use the glow eggs with the large group of kids I have but
there is not doubt I can figure that out. I am thinking perhaps a separate
glow event would be in order. It's a little late for me to plan that big of
an event for this year but I hope to add this in next year if it's in our budget.
If nothing else we may order at least two more sets of eggs so the kids
here at home have their own dozen.
I'm not the only one with a pinterest board Egglo Eggs is on
Pinterest
too.
You can find Egglo Entertainments at various other social media as
well
Facebook
,
Twitter
,
Instagram
(although it looks like they are
just beginning ),
You Tube
and
Google +
If you would like to learn More about Egglo Entertainment and read
more reviews from the Crew Click the graphic below.




Warm Blessings,

Nikki