the last 19 years. (wow 19 years) Working with kids in preschool
education has been so much fun. It is secretly my favorite age. Music
and movement at this stage of the game is so vital to a young child's
education. There is so much that little ones can take away from music.
It is with great pleasure that I introduce to you
KinderBach
.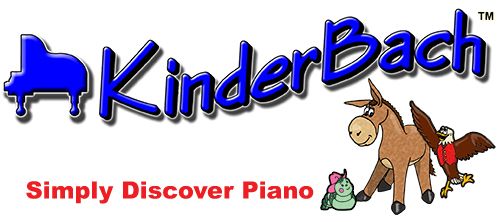 This is my very first review for this year with the Schoolhouse Review Crew.
I am hoping that 2014 will be as much fun as my reviews in 2013. As a
reviewer I can go in and choose products I am interested in trying out. If I
am chosen for that particular review then I will receive the product to try with
my kids for about 6 weeks, With that being said let me tell you about KinderBach.

I received the Online membership to KinderBach and the Teacher Corner
for a six month time period. This is a $130. value for one year but for a limited
time you can receive a one year membership for $98.88. That would come to
$7. 99 per month. This includes web entrance into KinderBach using your
Ipad, Kindle Fire, Computer, Android tablet or Nook. I also could use the
Pdf activity pages, audio mp3's, Teacher Corner for levels 1-6 , Download
coloring pages, song books and story books. Lessons are for children
four years old to about seven years old. Although younger and slightly older
may enjoy them as well.

You can learn more about this memberships at the link I've provided.
The KinderBach Online Piano Lesson Membership and Teacher Corner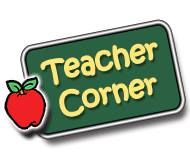 In the teacher Corner you can Download the lesson plans and activity
books for Level 1-6. Levels 1-3 are ready to teach and Level 4-6 are
in the process of being ready. Each week has 10 weeks of lessons.
Three levels can be completed in one school year. All the Pdf's are
available for download onto you computer this includes lesson books,
teachers aid book's, Audio Mp3's ,student book, goal book and certificates.
If you are a family receiving the membership you can use all material for
the members of your family . If you are working in a group setting
you will need to purchase the student book for each individual child
using the material. Each link provided you simply click and download
with the exception of the mp3 files which you would have to download
individually for each song that you wanted to save to your files.
Lesson Plan Book- The lesson book provides you with the planning
done for you. Each activity tells you what extra supply you might need
or where you would find it in the other guides. I put my daily plans on a
clipboard each week. What I would do was print out that weeks lessons and
attach it to my clipboard. You could print out the entire book and bind it or
you would use it from the computer screen. I found that this was a page I
needed to print out but I did use other pages on the screen.
Teacher aid Book- Provides you with color guides and posters that you
can use in your classroom. It is suggested that you print these out
and laminate them as you will use them often. At the moment
I didn't financially have the ability to print them all out and laminate
them. I have been using the photos from the pdf. Now this isn't ideal
sometimes the photos are on their side. I would strongly suggest printing
them out . As soon as I can I am going to print them and laminate them.
Then put them in a three ring binder for easy use.
Audio Mp3- As I mentioned above when you click the link
you are brought to a page that lists all the songs you need. You
can click them and use them from the page or you can download them
to your computer. Typically what I do before the lesson is load the list
page and as I want to use one of the songs I click on that particular one.
I liked that the many of the songs were songs I had sung when I
was young. I often see in the preschool environment steering away
from some of these old tunes and I loved that about this curriculum.
Student book- The student book provides you with printable pages
that your child can interact with to help them remember the material.
You can print out the entire book and have your children work through it as
reinforcement of the lesson. What I have been doing is printing out the
pages that I need and then storing them in personalized folders. That way
if we decided not to do a particular activity we don't have wasted printed
pages that we aren't going to use. However most of the time the kids opt
to do them over not doing the color pages.
You also will be able to download the Storybook's, Coloring Books
Alternate Song Books and MP3's. The Extra song books are for those
children that would like to be able to play songs that they know in their
everyday lives , Christmas songs, Patriotic songs, Hymns and Nursery
Rhymes. Things the kids readily relate to.
As the teacher you will also have access to the
Learning Center
.
In the learning center you will find videos for each lesson. You
can use these lessons to teach for you and view them with your child.
This is a feature I took advantage of often. I have some musical background
but often find it difficult to teach. The children were engaged in the videos
and often times we would then try the activity again without the video using
the music alone. Another way they can be used is you the teacher to view
them and use them as ideas for teaching to your children or group.
Below is an example of what the screen might look like in Learning Center.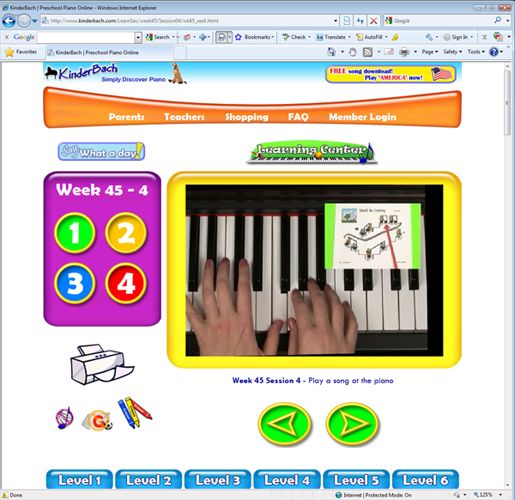 Addition Supplies you will need:
A good quality printer is probably a bonus with this particular curriculum.
It might also be good if you have access to a laminator or to color printing.
I like to use my local Staples store for color printing, laminating and book
binding. You will want to have a keyboard or piano. We happen to
have both. The curriculum provides a black and white of the piano keys
that you can print and put onto cardstock or board for your kids to pretend
on . As always though they should be able to touch the real thing. You also
might want to have rhythm sticks or other kids sized instruments that
they can use to find the beat. I usually also keep scarves in our music box
so the kids can dance to the music with their scarves. You also will
want to have a program on your computer that allows you to listen
to MP3 Files. You may also need glue and crayons. I like
to keep a music box as I mentioned. This way when we are ready
to complete lessons. It is all together in one place. It has made
doing the lessons a lot easier.
How We Used the Program



Mom's Planning - There really is virtually no planning involved.
I printed out the lesson page for each day that we worked. I would use
that to see what else we would need. I'd print out their student pages needed
and put them in their folders. Then for our music time I'd bring up the MP3
list and the vidoes in two different tabs so I could alternate between the two.
Their folders, instruments, crayons and glue were already stored in the music
box. This way made it really easy for me to implement the lessons. At first
it took some flipping around of pages to figure out but after doing two lessons
I had a way figured out that worked best for me. There is an intensive amount
of material for your use in learning keyboarding.
The lesson guide is very good at telling what exact page you will be using,
what song to play or what video to watch. It even tells you which activities
you are doing standing up or sitting down. I liked this since I have a son
who is very active. Speaking of my son I used this curriculum with him he
just turned 8 ( Spirit) and my daughter (Sweet Pea) age 4. I had originally
planned to move Spirit to his lesson ability but the two of them were having
such a fun time with it that I thought I'd just leave them together. Plus it
gives him practice in being the big brother and helping along his little sister.
We were able to complete level one which introduces the kids to the keys
of the keyboard. They began learning to recognize the two black keys and
the cluster of 3 keys. Our pictures below represent the story for the two keys.
Children will hear the story of Dodi's house. Dodi is a donkey who
lives between the two keys. I was really surprised how easily my four
year old picked up on things. In our next lesson she easily found the keys
on her cardboard keyboard. The three keys are represented by
three trains. I was able to download the stories and read them to them or
I could use the video option. We used both. I played the video while they
colored the second time through. Kids will also learn High, low sounds,
quarter notes, half notes, keeping to the beat and walking to the beat.
The lessons use adorable characters that the children can relate to like
Dodi the Donkey. These characters also help them to retain the new
knowledge they have just gained.
Another thing we did is begin preparing them for which fingers they
would begin with when using the keyboard. There is an adorable little
piano song that sings about the first three fingers- thumb, pointer and
middle finger. I love how this gets them ready for positioning their
fingers on the real thing. We had a good time with it as you can see.

As I mentioned before the kids had plenty of time to get up and get moving.
Here they are practicing finding the beat with the song Twinkle Twinkle
Little Star. Kids always love using various instruments. You could also use
a drum or a cymbals and achieve the same purpose.
*Also pictured below is Sweet pea showing you where Dodi's
house is located on her keyboard.
Another action activity the kids loved was this one where the children
listened to music and decided if the note was high or low. If
it was high they were to stand up tall and if it was low they were to go
low to the ground. The bottom right photo shows them being serious
at the start but by the end (the top right photo) they we were
all smiles and giggles. This is what you want out of music. Lots of
smiles from our young children. Shhh we even did this one in our PJ's .
I personally liked using the Videos . I used them as the guide.
Meaning that I used them for the child to view and not for me to view
and then teach . Although there were times I did both. I would
preview the video and teach the activity . Then play the video doing it
again with it . By this time the children were pretty good at whatever
the task might be for that lesson. What I liked most is that I didn't have
to figure out what was going on with the lesson on my own.
The videos are fairly short in content. There are times I'd have to stop
and do something else and then replay it again. The children enjoyed
them intermixed with in the other activity lessons.
I could take the lesson and complete it at the pace that was appropriate
for my children. We worked slower so my 4 year old could keep up
with the activities.
What I enjoyed Most:
* Clear direction and clear lesson plans.
* Movement of the activities
* Simplicity very easy for young children to understand
* Many of the tunes I grew up with when I was little
*My preschool was really learning Music
* The BIGGEST THING the kids loved it!!
Things might have worked better if...
* I think I would liked it better if I could download the MP3's
in one file. It makes it sort of time consuming to download each
individual song as there are a number of them through the 1-3 levels.
It might be nice to load it as an entire file and be able to click the
songs within that file . Instead of each individually.
* I also would like the option to be able to buy the teacher aid items
already printed and laminated for me. I wouldn't mind paying the
expense to have it already done.
Overall
we thought that KinderBach was a blast. The Kid's loved
it and asked over and over if we can do KinderBach lessons.
When Kids ask to learn then it is a keeper to me. If I went to teaching
preschool again I would surely recommend it to our director. If you are
interested in KinderBach you can connect with them through
one of these avenues....
Website:
www.kinderbach.com
Facebook:
www.facebook.com/kinderbach
Facebook for Teachers:
www.facebook.com/classroomkinderbach
Twitter: @KinderBach
Pinterest:
https://pinterest.com/KinderBach/
YouTube:
KinderBach Preschool Piano
If you are still not sure and you'd like to read more reviews from the
Crew about KinderBach then click the graphic below.




Warm Blessings,

Nikki