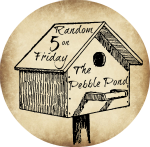 1. I've been on my clean eating diet now for 1 month and
feeling absolutely grand. However I have been looking into Trim
Healthy Mama's and think I might like to give some of their recipes
a whirl. Any of you use it?
2. Each week on Friday I work on creating a menu plan. It has
been great in keeping me from cheating and buying foods we don't need.
I really want to find away to manage my new recipes.
3. This week Spirit read the book Sam the Minuteman and absolutely
loved it. He read it while walking around the dining room. All
while I was making dinner. He did an amazing job reading and
even had some voice changes.
4. My weeks feel really long lately because Daddy has been
working overtime. It makes me feel like the weekend never comes
because I'm always handling everything myself.
5. We can almost see the grass now since the snow is starting
to melt. It's all a big mush of mushy snow out there. Unfortunately
they are calling for another artic blast next week. Sigh...
Warm Blessings,
Nikki