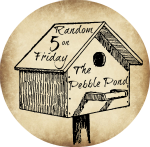 1. I'm still working hard on my eating plan. For a bit I got off track
with being sick . Daddy was making food from a can and not feeling well,
I ate it. So happily starting to eat well again and feeling better.



2. This is my favorite Breakfast... Vanilla Yogurt, granola, and
blackberries. I often change the fruit to blueberries or apples. 

3. This week we had snow and then it stopped and then it snowed
and then it stopped and guess what right now It's snowing again. 


4. The kids made a new snowman because the old one melted some
and fell apart with an ice storm we had. I love this guy he has
character. 
You can see to the right part of the other guy that doesn't
quite look like a snowman anymore.
5. If you can't beat the snow join it. ha ha...

The boys made now forts and had a little now ball battle. 
For Spirit it was all about the building. He has some extra made balls in
the bucket he is holding . 
Superboy was all about rolling the biggest ball and using it
as his fort. He was more about the throwing. 


Sweet Pea was all about helping everyone get ready.
She helped Spirit until she realized that perhaps her little brother
wasn't as great at protecting her from the snow as her big brother.
Then she was all about helping her big brother.



Hopefully the next week we will have less snow.


Warm Blessings,

Nikki