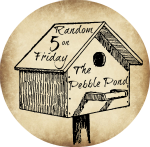 1. This week is Spirit's 8th Birthday. We celebrated at his
grandmas house and then on Saturday he is going glow golfing
with some friends. Sorry for the grainy photo this was a mom forgot
her camera so it was taken on my oldest phone photo.


2. My oldest daughter and I went Wedding Gown Shopping !!
Egads how did that happen. We took lots of photos but I want to
save the dress for family as a big surprise. She was lucky to find
THE ONE... We all cried . I am so happy for her . So happy she is
able to be able to marry her best friend.

3. I have so many little projects going on that it's hard to
keep up with what all I'm working on. Do you every get that
busy mom syndrome where you overbook yourself. This is me
right now .

4. My new favorite snack is frozen red grapes.
MMM so good.

5. I did a big clean out of my kitchen this week. I have some
more to do but it has become so much more manageable when I'm
cooking. As it was before it was so hard to find everything it had
gotten so cluttered. I am loving my new to me kitchen organization.
I will finish the last details this week.


Warm Blessings,

Nikki