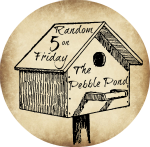 1. This was not a productive week at all. I ended up not attending
church on Sunday because I as sick and that has taken my entire
week. Today I am feeling a little better but a tad wore out.
2. This week the boys had dental appointments. We so love our
children's dentist and I am so sad to hear they are no longer going
to accept our insurance. I can't afford to pay out of pocket for 4
children and so we will have to find another dentist. I just hope
we can find one we love like this one. Insert sad face here.
3. Our house looks like a tornado went through it. That's what
happens when mom is sick. So I can't wait this week to get started
on Motivated Moms. (A little something I get to review with the
schoolhouse crew. )
4. I love to read and am reading several books at once. They are
and in no particular order...
The Bible
Crave
The Daniel Plan
12 Steps to be Organized
Sing you Home by JodiPicoult
5. I always wake up at 3 or 4 am and then want to go back to
sleep later but can't because the little ones wake up. Blaaaa.
Warm Blessings,
Nikki