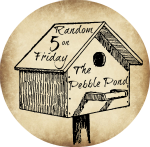 1. I'm taking our Winter break and regrouping. The house is clean.
The laundry is done. Blog planner for January is full. Menu plan in the process
and school plans on the horizon. My calendar is filling and the new year begins.


2. Beginning next week I start my diet journey. I found a lot of
healthy living facebook groups , challenges and recipes that I'll be
sharing really soon. The really exciting thing is I was assigned the
Health portion of the children's ministry on Good Morning Girls. I love
how God works.


3. It snowed here last night about 4 inches maybe. Enough to make
a mess on the highways. It is a freezing.... 10 degrees here this morning.
I feel bad for those in PA that are in the negatives and without power.
Thankful for the heat.

4. On Sunday I am going with my oldest daughter and her fiancé to
a wedding show. I can't believe that I am saying that. She will be getting
married in the summer of 2015. Not sure of the exact date yet. We
are gathering ideas and working on prep already. Weddings take so long
to plan and you have to save your venue in advance or you might lose it.


5. This year my kids have joined the children's choir. Here is a picture
of their small group. They were both so enthusiastic. It makes my
mommy heart sing to hear them singing to the Lord.

*I blocked out the other children's faces as I do not have their permission to
show on the web. Thanks for understanding.


Warm Blessing and a Happy New Year.

Nikki