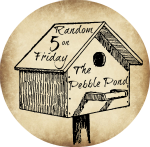 1. On Monday we had -20 degree temps which
froze our pipes. We called the plumber but he came
and said that he didn't have time for all our issues. That
was a first. By Wed. we had the pipes thawed and
by Thursday Daddy fixed the cracked shower pipe.
2. Because of #1 we had a crazy start to our school
week. We had family in and out and plumber in and out.
Somehow we managed to do it all.
3. I have been working on my health and a new way of living.
I am eating clean which has been so great. I would recommend
it to anyone. I feel so good and have so much more energy.
I have lost 40lbs so far and feel just Amazing. I have more
to do on my journey to weight loss but this time I will get there.
4. On Saturday we have a late family Christmas party to attend.
The kids love going and spending time with cousins. We
play bingo for wrapped gifts. It's a lot of fun.
5. Sunday I am taking off of church this week and heading out
to a wedding show with my oldest daughter. Who ever thought
this day would come.
Warm Blessings,
Nikki