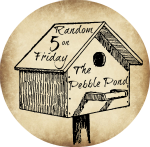 1. Five more days till Christmas. Are you Ready? I'm
close. I have some last minute shopping and wrapping and I'll be set.
Give me today yet. Well maybe tomorrow too.. Ha haa..
2. Last weekend the kids had their Christmas program at church.
Sweet Pea was an angel and Spirit was a Wiseman. The older
kids did readings. I work with the little guys so only snagged this photo. 
3. Today we went with our family to a monthly dinner out meeting.
All of my grandmothers brothers, sisters and cousins meet once a month.
The kids love spending time with their older relatives. They like the extra
attention and the extra grandparent love. We don't go every month but
close to Christmas seemed like a good one to jump in on. 

4. Today is the last day of our school for this year. We are taking
a little winter break until Jan. 7th. I am in the need to regroup and
love the idea of taking some time to plan for the new year in more
ways the one. 
5. I was one of the millions who made a purchase at target. I cancelled my
card and had a new one issued. To be honest with you I have never
been a fan of Target so go figure I'd be one of the many that used their
bank card there. I also put a fraud alert on my name just in case. 


Nikki