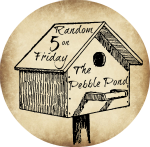 1. We have had our first glimpse this year of what our winter is going
to look like. We had about 6 inches of snow so far and looks like more
in the forecast.
2. Something you might not know about me. I do not like driving in the
snow . Now this is not an uncommon response from people but I literally
panic. It scares me to death but when I have to do it I force myself.
3. The kids went out and played in the snow for awhile
they made snow angels and these little snowmen.
4. In Pa there is a law that says you have to clear your car of
snow or ice so that it does not hit cars as you are driving. This is
very difficult to do when you have a mini van so when I went
grocery shopping this week I bought a long scrapper with a brush.
I'm hoping this will help in cleaning off the van the next time around
because when I'm doing it I feel really short.
5. Lastly I think that the snow coating the trees is absolutely beautiful
before it is untouched by anyone.
Warm Blessings,
Nikki