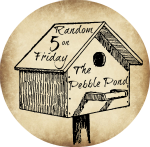 1. Christmas this Year was just awesome!! It approached so quickly but
a great time was had by all. It was one we won't soon forget.


2. My parents came over in the morning to watch the festivities.
They brought along their little Lily dog dressed in her Christmas
Jammies. 
3. Sweet Pea was all about being a Princess this year.

4. Spirit Got the new nutcracker he wanted. He just loves them!!
5. I got a kindle fire HD for Christmas and a mug that had a crocheted
cozy around it. It is adorable . Hand made by my oldest daughter.
Merry Christmas,
Enjoying my sweeties this year. :)
Lot's of great posts Ready for the New Year.
See you all then.
Nikki