I was given through the
Schoolhouse Review Crew
Exploring Creation with Chemistry and Physics Book
- $39.00
Exploring Creation with Chemistry and Physics Jr. Notebooking Journal
-$24.00
Exploring Creation with Chemistry and Physics Notebooking Journal
- $24.00
I received these books in Exchange for my honest Review. All books
came from
Apologia
.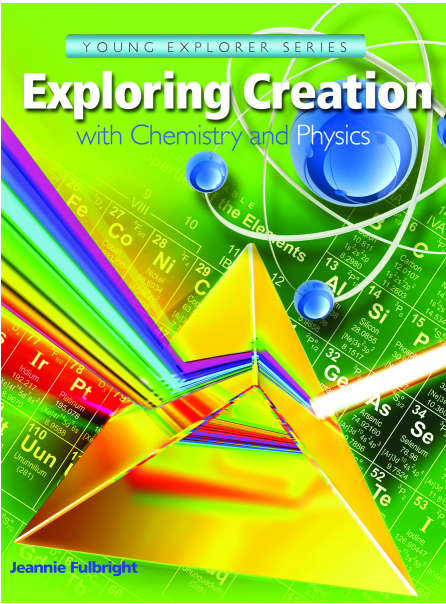 Exploring Creation with Chemistry and Physics Book
Exploring Creation is for children k-6th grade. It is based on the
Charlotte Mason method of teaching. Children will learn about
Chemistry , Physics Matter, Moving Matter, Building Blocks of
Creation, Compound Chemistry, Mixtures, Mechanics, Motion,
Work in the world, Sound and Energy, Light of the World,
Thermal Energy, Electrifying the World, Magnetism and Simple
Machines. This book explores the world through God's creation
sound and biblically correct information. The text includes 14
lessons. The notebooking journal spreads the lessons over a span
of two weeks. Each reading section has information about the topic.
They are then related to biblical facts and to the bible. There are blue
sections with Try this activities giving it that hands on prospective.
There are typically several try this sections within each chapter. You
can pick and choose the ones you would like to try with your
student. You are also offered some online resources with the
use of a password. Also listed along with the chapter is suggested
notebooking pages that your child can complete. At the end of each
section you will find a Project, Experiment or other larger scale activity.
In the back of the book you will find a supply list so that you can
be prepared to work through each section.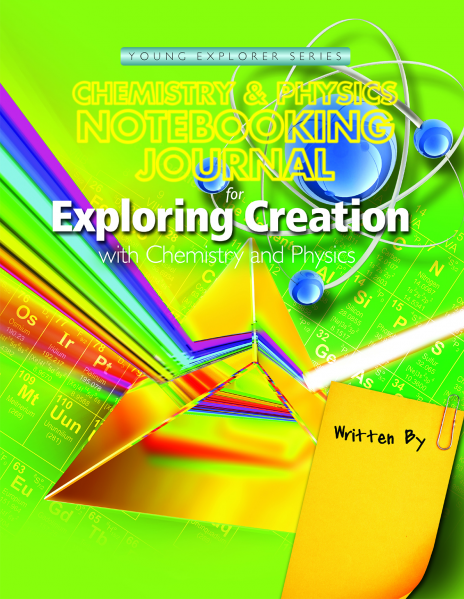 Exploring Creation with Chemistry and Physics Notebooking Journal
The activities inside the Notebooking Journal has everything your
child needs to complete the written parts of the assignments. The
notebooking Journal provides a place for your child to record experiments,
display their work, crossword puzzles, coloring pages and handwriting.
This book is recommended for students who have mastered handwriting and
note taking, upper elementary level. I used this one with my 7th grader .
He is a bit older but has dysgraphia so this worked best for him.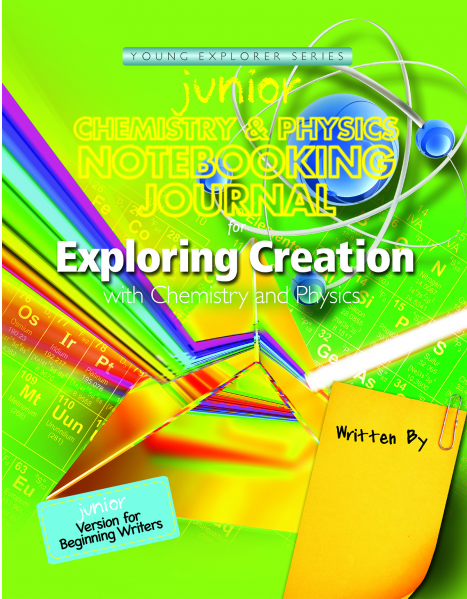 Exploring Creation with Chemistry and Physics Jr. Notebooking Journal
There are age appropriate activities for children in early elementary level
such as coloring pages and activities with beginner writing skills.
There are exercises to strengthen vocabulary and limited writing for
those just beginning. I used this notebook with my 2nd grade son who
is just really beginning to write well.

How we used Apologia Exploring Creation and Chemistry

As stated above I used it with my two boys one in 7th with dysgraphia
and one in 2nd with beginning writing skills. My preschool child also
jumped in and enjoyed many of the try it's and activities alongside her
brothers. I love
Apologia
Science. It is my absolute favorite Science
curriculum. After trying it through the Crew I am sold on it. We
skipped to Chapter 7 so that you the readers could get a broader
view of the curriculum. I wouldn't suggest starting in the middle.
The curriculum builds upon itself. However my boys have had some
experience with Chemistry and Physics so I thought we would be able
to do so . We also began working on Chapter 14. Simple Machines.
The boys responded will to the reading. I read it aloud since I have
varying reading abilities. What we liked most is that the lesson was
related to their lives and things that the children know already.
This really helps with their learning journey. We explored many
of the try it activities . Their favorite Activity was one on Friction.

My preschool enjoyed it for hours after. We took an old cookies sheet to
try our experiment on. We took a matchbox and gave it a push to feel
and see how far it would go just on the tile floor. Then we added a little
water to the pan and pushed the car across it. We added water and oil.
Oil being the slickest. My youngest son decided that the oil made his
car go a lot faster and we talked about the dangers of that on the road.
He decided that in the winter we put down salt to help melt the road and
he wondered if it had traction if it would move slower so we went
beyond the experiment and tried salt over the oil. This slowed down
our drivers making it safe for them to travel. The kids then proceeded
to try various other things around the house, sand, soapy water , and
flour. My preschooler played the longest with the activity and I was
so please. My motto Learning is play sure fits this curriculum.

If you would like to read more reviews check out the link below.

Warm Blessings,

Nikki