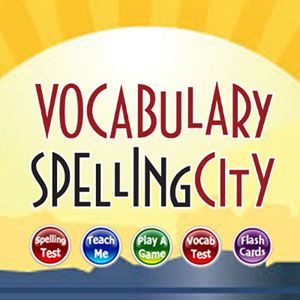 I was given a one Year
Premium Membership
to
VocabularySpellingCity
through the
SchoolHouse Review Crew
in exchange for my honest review which is a $29.99 dollar value
for a family with 5 students. VocabularySpellingCity is for
children in K-12th grade.
I don't usually do this at the beginning of a review but quite
frankly my kids struggle with spelling. It is something we really
have to practice. I have a child with dysgraphia and one with dyslexia.
This program has really become a value to my students especially
for my child with dysgraphia. It is a struggle to write sometimes but
it is not a struggle to type or to play games. VocabularySpellingCity
makes learning fun and that is just what we need when practicing our
words. Yes we still work on spelling from pen to paper but now we have
an additional resource to go along with what we already do. More on
our way of practicing spelling in a bit. First let me tell you what you
get with the Premium membership.

When you sign up you are given a Teacher / Parent home page
with in that parent page you are able to add up to 5 students.
I have four so it worked out perfectly for me. This is the spot
where you the teacher will be able to do most of your work for
your child. When you add your students each one will have
their own log in. I love this so much it keeps their work right
there just for them and is easy for them to navigate.

You will also be able to create your own spelling and vocabulary
lists. I did this in two different ways. With my younger son I
used spelling words right from his current phonics curriculum.
I was able to mark them just for him and give the list and specific
name so I knew where it was and what it involved such as
-ack ending or Th- words. With my dysgraphic son age 13.
I took words that I saw with in his writing and added it to
spellingvocabularycity for him to practice. My 16 year old
is close to taking SAT's so I added words from her SAT prep
book for her to practice. Each then is set up right to their level.
I did not try it with my youngest as she is in Prek and still
learning to recognize her ABC's. You can add your own lists
like I did or you can search lists and find the one that works
just right for your child and level.

Now one of my favorite features is that you can create
Assignments with in those word lists or beyond for your
child to complete. As you can see from the screen shot below
it is very easy to set up. You start by selecting the word list
you want your child to work on , then the activities you'd like
them to do. Then assign it to the specific student you have in
mind and add any details or additional information. All of this
will then appear when you child logs in to their special log in.



The kids can play games for each one of their lists. The
games are to their level of ability and fun. I think this is
the prefect way to practice spelling, in particular for the boys
who just hate spelling. My second grader was so excited about it
he out right said to me "Mom this is so fun." When a list is new
for them I would allow them to work from a Text guide .
I would lay out their list beside our laptop so they could practice
without frustration. Sometimes with my 2nd grader I would use
sentence stripes and put the words most challenging to him beside
him. As the week progresses I begin to take words away or take the
list away and they work directly on VocabularySpellingCity.

Not only can your child practice spelling through games but they
can practice a few grammar skills and vocabulary as well.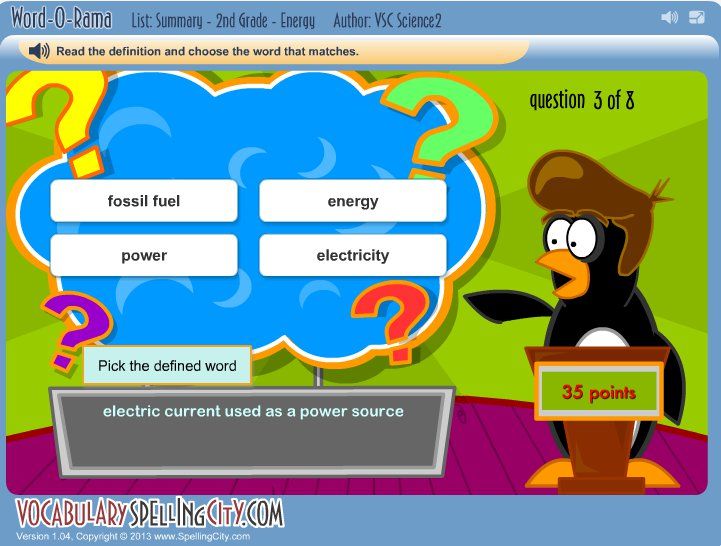 By Friday the kids are ready for their tests. We took the tests on
spelling city on Thursday as a pretest and then on Friday we did
the test pen to paper. This worked best for us as I believe it is
important to be able to write the words out.


Something with the premium that you don't get with basic is
practice with your vocabulary. Vocabulary is something that is
important for comprehension within their reading and for those
SAT tests that many colleges require for admission. To me this
was completely awesome. This could be vocabulary for Science,
for a literature lesson or even a history lesson. The words
can be generated into flash cards with their definitions. Did you
ever spend time making vocabulary flash cards and writing out
definitions for study? I know I have and this is so much easier.
You can use the flashcards online or you can print them out for
study or for your own personal game. VocabularySpellingCity
makes studying easy for the parent and the child.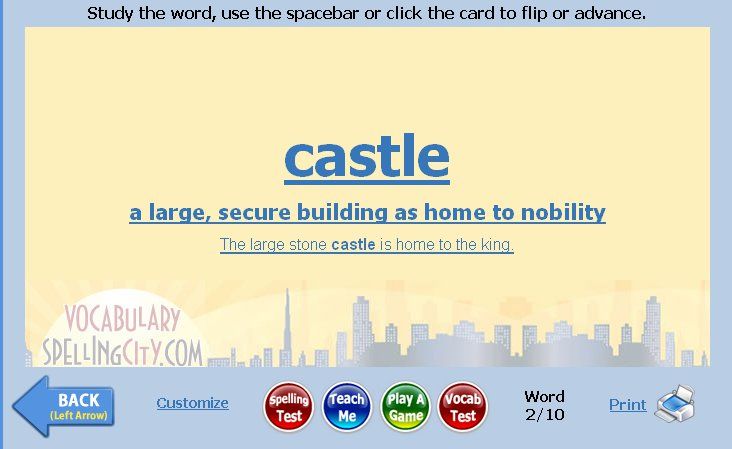 There are many resources available as well such as handwriting
practices and worksheets. There is a so much here to work with
with your student. Now once your kids play all of these games.
and compete their work . You have all of the information as
if you were right there watching the entire time. So you will know
what your child needs more work on and if they completed their
assignments. So that's progress tracking and record keeping.
Another quality I liked is no ads or banners.

Now I promised I'd give you a little glimpse as to how we do
spelling. I give my children a list in a pocket chart. Each morning
we do our daily Morning spelling tasks which include reading the list.
Then spelling to exercises verbally. After that I choose 3-4 words
to practice writing on the wipe board. We usually do this activity
right before lunch. After lunch when we come back to the table
they choose a hands on activity using their words. Such as rainbow
words, painting words, wet dry chalk or sentence writing for the old
kids. There are many hands on activities available. Perhaps I'll create
a list at a later time for my readers. Then when we finish our afternoon
work we end it with VocabularySpellingCity. I truly believe that a child's
life should be text rich. This is a great way to add more and still have
a good time with learning. This program has become a reward for
the end of the day. They enjoy working in it.


If you would like to read more reviews click the graphic.



Warm Blessings,

Nikki