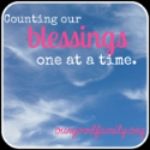 It's Thursday and time to count my blessings.
I admit this was a rough week emotionally. Nothing is wrong really
it's just a feeling. Looking at my blessings may help me get out of
my little mope mood. Nothing worse than feeling sorry for ones
self with no merit to it.
Home
1. We finally cleaned out our summer house and the kids are
using it a lot to play . It has made so much more space for our family.
2. My fall decorations are up and I was surprised how much
I love the large vase mom got me filled with Gourds. Love the look.
3. Painted some pumpkins to try to make a little extra money.
They are a blessing even if no one has purchased any .
5. Staying organized and keeping up on house cleaning this week.
That is a HUGE blessing.
6. Decided to try my hand a meal planning to help save us some
money with nonsense purchases.
Homeschool
1. I received Apologia Science and as always LOVE IT!!!
2. Reading time with the kids has been so cozy. Spent some
time with Sweet Pea reading her library books. It is so great to have
a child love books like I do.
Church

1. Sunday was beautiful we I had another new preschooler
added to our group. What a blessings.
Warm Blessings,
Nikki