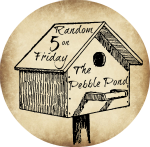 Welcome to Random 5 on Friday ... ummm Saturday. Yep
It's a day late but still wanted to join in. Here is some of my randomness.


1. I received my parent certificate from taking 5 college courses through
Bankstreet College in New York City. I did these courses online

Understanding your Child Better through the Study of Child Development

Meaningful Discipline : Minimizing Power Struggles with Children.

Effective us of the Internet for Student Research Projects

Math for Parents All about Multiplication

Enhancing Writing Instruction with Evidence -Based Strategies.


I got so much out of theses classes and met some wonderful ladies.




2. To Earn a little extra Money I decided to paint some pumpkins.
So far I sold one which will be customized with Strawberry short cake
on and the child's name. So far I painted 5 just as a starter to see where it goes.
If anywhere at all. 
3. I couldn't resist painting Snoopy. Charlie Brown is my all time Favorite
cartoon Character. I think its more about the memory. When I was a kid my
grandparents would have my brother, me and my cousins over when it was
going to air. We would come in our PJ's and have popcorn. So to keep the
tradition the kids and I rented the movie early on On Demand. We had popcorn
and laid around in my PJ's . 

4. Yesterday we had buckets of rain drop on us. It caused us to have about 5
inches of water in our basement. We live on a hill and on a triangle shaped lot
about 3/4 of an acre. At the bottom of the hill is the neighbors land that lives
directly behind us. This is their front yard. Usually this is a tiny little creek that
barely trickles. 



This is a picture of my neighbors yard to the left of us. Our land meets the
little creek at a point where are triangle corner hits so very little of our land
was affected. Typically our neighbor has his garden under that wet.


5. I redid my BLOG!!! If you get this by Email or read through a reader
stop by I'd love to know what you think of my New look ...
www.Angelsofheart.blogspot.com
I'm also researching sending a newsletter along with my blog posts.
Often feed reader messes up my format when emailing you my posts.
So I'm thinking about changing that. See what I can find. Any advice
for Blogger would be helpful.
Warm Blessings,
Nikki