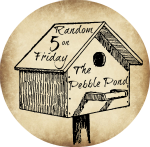 1. All of my fall decorations are out. My mom bought me this big
vase. I wasn't sure what I would do with it so decided to fill it with gourds
and corn. It think it turned out pretty good.
2. Over the weekend my three grandbabies came to visit and the older two
stayed and spent the night. It is always so good to spend time with them.
I love how in the photo below my son is trying to hold the little ones still.
It just doesn't work. They are on the move.
Here is a photo of the little ones playing. Its so cute uncle , nephews
and aunt playing together. I love they are all so close in age.
And of course I had to share the littlest. Such a smiley baby.
3. The neighbor and his dog came to visit to see what damage
we may have incurred with the flooding last week. He is great about
helping with yard clean up. I knew he was here because his dog Katie
appeared just like this at our door.
Katie is a big dog but such a sweety. You know she isn't going to
harm any of the kids.
She's sitting watching the kids play with those blocks above from the
porch. I invited her in but she choose outside. I guess it felt safer
then with all those little bodies.
4. Spirit went on Wednesday with his Grandparents to pick apples.
He was the only one of the kids to go so he got lots of special time
with Gram and Pap.


5. My favorite ice cream Is Moose Tracks. 
Warm Blessings,


Nikki