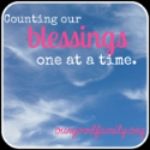 Every week I try to count my blessings along with
Our Good Life
. If you'd like to join in please go to
the link provide.
My weekly Blessings...
- I sold one of my painted pumpkins in an effort to make a few extra
dollars this month. One isn't going to get me far I know but it's still one.
- My dad went to Rutters and the ladies there were discussing
my pumpkins. So maybe I do have a standing.
- On Monday we went to Hubachi Restaurant with my
parents and the kids. It was a nice Columbus day treat.
- Yesterday my 7 year old son brought me his bible and shared
passages he had highlighted. He said they were all about Love.
- Today is my Grandmas Birthday she is in her 80's I believe 86.
She is still very strong and healthy .
- In the morning Sweet pea comes in and hugs me for a long time.
- Spirit Got to go with my parents this week to a farmers market.
They had all sorts of activities for kids. He loved the alone attention
he got with them which doesn't normally happen with 4 siblings
- I got to spend time with my grandkids over the weekend. Lots
of hugs and rocking.
- Princess read two books this week. She used to be a struggling reader
and now she reads all the time. I remember there was a day that a few
words brought her to tears. What a blessing...




Warm Blessings,

Nikki