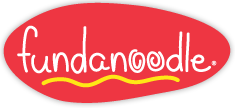 It is fun to be a homeschool mom. I get the perks of learning
and playing with my children everyday. The older kids and I sit
and dig deep into their lessons. While that is happening..... What
do you do with my preschooler. If I give her something to fun
she wants me to look. If I give her a craft she wants my help.
How can I keep her busy during those times when I need her to play
alone and still learn. That is the question isn't it.
I was given by the
Schoolhouse Review Crew
in exchange for my
honest review
I Can Doodle
and
I Can Do Fun Activities
by
By Fundanoodle
. This product is just perfect for my 4 year old
Sweet Pea. I can Doodle is a $9.99 value and I can do fun activities
is a $11.99 value. 

Fundanoodle is a new company helping your little ones develop the
skills needed for handwriting and everyday activities. Created to make
learning fun all the while helping with fine and gross motor skills,
hand eye coordination, encouraging touch and visual exploration ,
problem solving , discovery and self-esteem . 
I can do fun Activities is suggested for use by 3 years
plus /Preschool. My little one is four this year but a young
four. She has much growing to do. The book is 18X18 in size.
A nice floor size book to work in. Little ones will enjoy laying
on their tummies and working in this large book. We laid ours
on our dining room table. The activities inside encourage hand
control, visual boundaries while learning action words.


Each activity has simple instructions. Sweet pea went through several
pages at first. She was stuck on using her pink marker to make the paths
and work the mazes. She did very well with these and surprised me with
how much pencil control she had. Later we moved to tracing pictures.
After she traced the dotted lines, she then was given directions to add
shapes and lines to give her drawing more detail. Above you can see the
house she made and below the little boy. (all in pink) She sat beside me
and worked. I could talk to the other children with guided lessons and in
between read her the next step. The book progresses to more detailed
drawings ,looking for letters on one page and shapes on others.


There are also little reward stickers in the back that she loved. Each
time she completed the page we would flip to the back and find the matching
sticker. This kept her going. She would work for quite some time at one sitting
and actually begs to work in her workbook. I can see we are going to need to
get her more books from Fundanoodle.


My only issue with the book was that the pages easily tore out
while we were paging to get the stickers. This frustrated her a bit.
She wanted everything to stay together. Before the next sitting I just
took the pages out and threw them away . She never knew it . This way
she wasn't frustrated with the loose paper. 

What I liked about the book was it's size. It was easily workable
for little hands. The spaces were large enough for her to maneuver.
She was readily able to succeed with the activities. 
We were also given the I can doodle note pad. What little girl
doesn't like a large plain piece of paper to draw on. The page
is 18X24 and has a handle at the top for you to easily carry the
book around. My little one is just beginning to create her own
drawings. I found this one below in her drawing tablet.

If you have a little one I would encourage you to check out
Fundanoodle. If you'd like to read about some of their other products
click the graphic below to read more reviews.





Warm Blessings,

Nikki