As a participant of the
Schoolhouse Review Crew
I was given
in exchange for my honest Review
See it Say it Flip Flop Spanish
By Flip Flop Learning
a $99.95 Value. This Curriculum includes...
* Three Sets of Flash Cards
*Four Audio CD's
*White Board Paddle
*Complete Scripted Lesson plans
Your lesson guide comes ready with holes to place in a three ring binder.
Along with plastic protector pages so that you can keep you Cd's right
with your notebook. I placed pencil pockets in the front for the flash cards
so that I could keep it all together and the white board paddle fit nicely
in the front pocket of our 3 ring binder.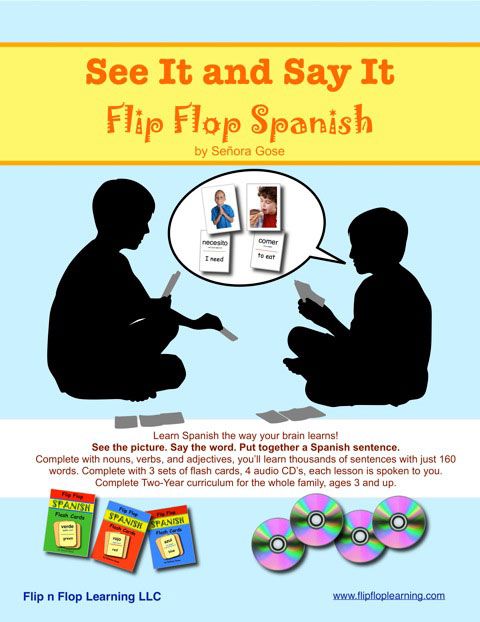 Flip Flop Spanish if for Ages 3-99 years of age. Just about everyone
can learn it. This I was excited about because I know very little Spanish
but wanted to teach it to my children. It is really hard to teach something
you really don't know. This Curriculum has made it easy for the parent.

This is a 2 year Spanish curriculum. You can complete lessons 1-12
your first semester, 13-22 second semester, 23-34 third semester and
then 35-45 your fourth semester. Each semester allows for a week break.
Each one of the lessons should last you one week. You can work longer
or less time depending on your ability. You will want to work on Spanish
about three times per week. However you may need to work on the
flash cards that are difficult for your child more often for retention.

Lesson are set up so younger and older children can learn Spanish with
only your CD's and Flash cards. The first and second day the lessons are
done with the CD. The guide is simple to follow for each lesson. You simply...
1. Read the manual- Each lesson is about 2 pages long with visuals
to make setting up easy.
2. Pick out the cards- Go through your cards and pick out the ones needed
3. Push play and follow the instructions you hear.
Along with the instructions you can choose some games on the
Flip Flop Website
. My kids enjoyed the bingo game.
How we used it:
We used flip flop Spanish as suggested by the publisher 3 times per week
doing one lesson per week. I was able to teach the Spanish course
with my children ages, 4, 7, 13, and 16. I personally do not know much
about teaching Spanish so I would work one or two lessons myself ahead
of the children. I thought my younger children would need to work at
a slower pace than the older ones but I found that my younger children
actually had an easier time remembering the words. We worked through
the lessons as a family and have had fun speaking in Spanish while we
are out and about.
I personally liked that lesson planning was made simple. I didn't have to
do a lot of work to prepare other than gathering the appropriate cards
for my students. The cards came in three different packages Green (verde),
blue (Azul) and Red (rojo). I tried keeping the packages of card separate for
easy use but it didn't really seem to matter . So they ended up in one bag.
Planning is made easy. This is refreshing with all the other subjects a
child needs to work on in a day. It really gave me a break in the way the
curriculum is set up. It was like having a Spanish teacher right in my
home. I admit I am not usually a flash card gal. I'm a hands on learner.
however with not knowing Spanish myself this became an alternative to
teaching them something new. Once I became familiar with the curriculum
and with some of the words I was able to add some of my own hands
on experiences for the kids. We played a game of twister to help us
learn some of the colors which they wanted to know after seeing the
titles of the flash card packages.

Basically you gather your notebook. Put in the Cd. Set out your flash
cards and begin. First you show them a picture , then identify the word,
touch it and then repeated it when the instructor on the Cd asks you to.
Right away your children will be able to form sentences by placing
cards together. Most of the lessons follow the same structure learn
the words, make a sentence, test what you learned, play a game and
write what you know. Pretty easy format. The lessons are short maybe
20-30 minutes long depending on how long you want to spend on it
practicing. I have no prior experience with Spanish but I found the
curriculum easy to use and my kids are learning a basic foundation.


If you are a parent who doesn't know Spanish but would like to
teach it to your children than this is probably the curriculum for you.
Very easy to use and with the CD you can't mess up the pronunciations.







Warm Blessings,

Nikki