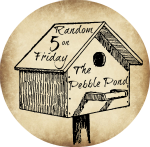 This week we did a lot but for some reason I didn't take many
pictures this week but I will still tell you my random 5.
1. We rearranged our living room. I love our new set up. At first
I didn't think I'd like it but once we got the room figured out and
the decorations set. I loved it. I also loved that for once I could clean
under and behind things. Which is always difficult to do when your
rooms are fairly small. (Old farm house)
2. On Tuesday we went to a local park day. At first we didn't
meet anyone we connect with but soon one family came a little
late and had kids the same ages as my kids. This was such a blessing
and the kids got out for some much needed outdoor time.
3. This week we also went on one of our park walks. If you have
read any of my random 5 posts you know we like to walk trails
at various state parks. My 4 year old walked a 1.5 mile hike.
Pretty awesome if you ask me.
4. The weather is getting cooler here in PA and we even found
some acorns and the first colored fall leaves. I'm gearing up for
apple cider, pumpkins and everything fall.
5. This week my son tested for his orange belt test. He will
know the results next week. I probably shouldn't post that without
knowing the results yet but he was awarded with a special ticket
to attend a black belt club class. He was so excited.
Warm Blessings,
Nikki