I have been through many trials as I am sure many of you have as well.
There was a time where I didn't know what to say to God anymore. I was
having a hard time praying anything. One thing after another after another
kept falling into my lap. People would say things to me like God only gives
you would you can handle. I'd cry out God please stop I can't handle more.
God said no. He said you can handle more. So I was a little angry. It was more
than I wanted but lets face it God is God. I love Him. He is my Savior. So
not talking to Him wasn't an option for me. So I started God Thank you
for the light today. The sun is so warm and God Thank you that I am
breathing and feeling that fresh air. So little so little. It was hard at times
to find anything. I had to dig very deep but soon. I had a list of Thanksgivings
to God. I soon realized that when I looked they were everywhere. And
in this way God helped me through it. He helped by showing me that there
was so much more than that problem or this problem. I was so happy
when A Good Life decided to start Counting Blessings Each Thursday.
You can link up at her website if you want to join in.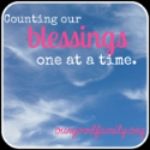 Church


1. God Blessed me with the idea for the
Creation Wheels
and the little ones got it.
One of them said... We are making a Garden and I thought YES!!!
2. Growing Groups with many children.
Family



1. Long walk at our local State Park. We walked 1.5 miles and the preschooler
made it the entire way around. So amazing. I love walking in the fall it is
the perfect time to go.
2. Pancakes and eggs for Breakfast
3. Bunny Club and the excitement of the boys about this new thing.
4. Karate Orange belt test and my son receiving a special ticket to
black belt club. He is so excited about that.
5. Watching movies late at night with my 16 year old when the rest
of the kids are in bed.
6. Reorganized living room and cleaning out.
7. Pumpkins, gourds, Indian Corn and all our Autumn decorations.
8. Hugs from Spirit and Sweet Pea.
9. Picture of Heart my mom found that looks just like Sweet pea.
10. Kids dancing around the house singing B-I-B-L-E
School



1. My 2nd grader is writing more and more.
2. The Great questions that have come from our Science lessons lately.
3. My 7th grader doing a lot of his work on his own.
4. Grammar with my 7th grader as he answered he was a pirate,
then a vampire, than a raspy voice guy , then a high pitched voice,
and then he cheered after each one. :)
5. Bread Mold.
6. Music lessons and doggie doggie. The kids dancing and then
finding the dogs bone. More on this later.
Warm Blessings,
Nikki