Last year I took a course on Child development. We learned all
about a child's brain and how they develop. It was a very interesting
class. The more I learned about the brain the more I realize how
important it is for your body to be taken care of properly. It affects
not only your body but also your mind. I thought I had a pretty good
understanding about how things work in the brain but I'm realizing
there is so much more I don't know. When the Family Hope Center
was presented to the Crew for review. I was happy to learn more.
I was given by the
Schoolhouse Review Crew
in exchange for my
honest review
Dvd Understanding Child Brain Development
from the
Family Hope Center
located in Norristown PA. (My home state)
To order the dvd, please call 610-397-1737 or you can order
Understanding Child Brain Development
from IEW.
"The family hope center is dedicated to helping families with children
with developmental delays and special needs." When you have a child
with a disability of some kind it is often hard to know where to turn.
You begin all sorts of testing and feel like as a parent you have some
how failed, at least this is how I often feel. I have 2 children with
learning challenges but didn't want them to be defined by that. The
Family of Hope center is there to help no matter how severe or not
severe your child may be. Parents begin by learning about the brain
and how it works. Then they are given step by step in home guide to
take you through helping your child. They put aside the labels
cerebral palsy, autistic, add, adhd, hyperactivity, Rett syndrome,
epileptic , Down syndrome to name a few. They look at the whole
child . They teach the parent how to work with your child. What
you as the parent need to do to help your child's brain begin to heal.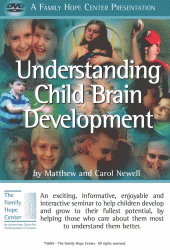 Understanding Child Brain Development is about a 2 hour seminar
on the development of a child's brain. Included is a link to down
load an ebook which is the slides that go along with the video. You
will need these as you watch the dvd as it is often hard to see the
presenter screen. When I think of my children I think of how amazing
they are. They surprise me everyday. Sometimes they struggle with things.
One has dyslexia , adhd and anxiety disorder, One has adhd, and a third
has dysgraphia. I was pretty anxious to see what I could glean from
this new information and how it relates to my children. Here are some
bullet points of some of things that I learned, notes I took.
* You cannot fix the brain but you can restore brain function.
* Diet is important for brain development
* Every time a child takes a breath 50% goes to the brain. The
brain needs oxygen so exercise is very important to its development.
* Much of the issues of the brain seem to come from their birth
experience. This make me want to cry. It is nothing I as the parent
could not control or change. I learned that one of my children was
probably born in fear and stayed in that mode of survival for
sometime. I wish I had known what I know now.
*When a newborn is laid on their back their brain shuts off
when it is on their stomach it turns back on. No wonder doctors
suggest tummy time. Do your tummy time you are helping baby
in more than one way.
* Smells can stimulate development. Smells can relax the brain.
I liked the idea of smell therapy and might use some during
our school time to relax the environment. It also helps the child
to later choose more food choices. This makes complete sense to me.
* Need water for physical aspects of the brain. I knew this but wanted
to mention it. Water is so important.
* I was able to see what part of the brain may be under developed.
(midbrain) Which is all related to dyslexia, filtering sounds,
misunderstanding sound, don't like clothes, hyper sensitive.
*Dyslexics switch hands for activities. Hearing can be flipped as
well. !! This was new to me. Very helpful.
* Brain can be improved with Sensory stimulation, smells, nutrition,
Physical activity, limiting screen time all great health for the brain.
This is only some of the highlights of the talk that spoke out to me but
there was so much more there. I would suggest this for any parent.
If you'd like to read more reviews from the crew click the
graphic below.




Warm Blessings,

Nikki