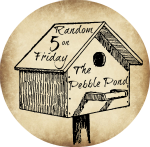 Today I'm sharing my Random 5 for the week and yes I'm a little
late, it is Saturday but I enjoy linking up and sharing randomness
that I figured ohhh well I'd post anyway. Miranda I love the new
Graphic by the way so adorable and your blog is looking smashing
over there. It is always fun to make changes.
1. The weather is suddenly cooler. Our plan was after tennis was
over in July to spend the lazy days of August by the pool. We wanted to
get our rest and relaxation in before school starts. Well the water is freezing.
It feels like creek water and there has been a gentle breeze so when
you get out you are cold. I sit with a towel on my lap and read . Most of
the time I am dry. I expected nice hot days but this is what we got. We
don't go as much as I had hoped because of the weather.
2. Since the weather hasn't been nice we do have time to work then on
some big projects here. I'm working on pinking up Sweet Peas room
and doing some major clean out of our kitchen. I want these things done
before School starts. We plan to start August 26.
3. My writing Class has been so amazing and I hope to post some of what
I learned here along with writers notebook ideas. So keep you eyes
peeled for those. There more I learn and dig the more fun I'm having.
I just hope the kids have as much fun with it when I teach it.
4. All of our school supplies except printer ink is bought. I have ink
just like to stock up some. I also need more printer paper. We have
been printing on colored paper which is fun. I await our school supplies.
5. Lots and Lots going on in the blogosphere and here on this blog
in the coming month. So excited about all that will be happening.
Check out below what I have in store..... Grab your calendars.
Head over to
Homeschool Coffee Break
on August 8 to
link up to the virtual Refrigerator Blog hop and then
the following week August 15 the hop will be here.

The
Old Schoolhouse Expo is
selling tickets right now.
Spend time with the 30 different speakers without leaving
your home. Expo will be August 19-23. Watch as I will
giving away one ticket to a lucky reader.
Beginning next week I will be joining 90 bloggers for a
week long of 5 days of... My topic for the week will be
Picture book play. So Drop in on Monday and find the link
for the other 90 .. So awesome topics are coming your way.