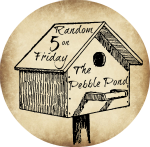 This week has been so full. We are down to the week
before School starts and it feels like we are trying to cram everything
into one week. Yet we are having so much fun doing it.
1. Yesterday we had the chance to ride a history train. It is in our
local area so it was interesting to hear all the facts about our area.
(More on this later in another post)
2. My oldest daughter and my youngest daughter had birthday's.
My mom had a tea party for the youngest.
3. Heart turned 21 and Sweet Pea turned 4.
4. We spent some of our days at our local pool. Sweet pea here
enjoying her popsicle. We have one more week of swim time.
Where did the time go.


5. Heart and I also have a date this week. We are going out on a
mother daughter day. I can hardly wait. It has been awhile since
we have been able to talk alone.


Warm Blessings,

Nikki