When I was a little girl. I loved the Laura Ingalls books and the
television series. I remember pretending to be her. I used to braid
my hair like her too. I was so encouraged by how strong she was
and what her lifestyle represented to me.
I was given for review by the
School House Review Crew
the dvd
Little House on the Prairie- The Legacy of Laura Ingalls Wilder
a $24. 95 Value by
Legacy Documentaries
.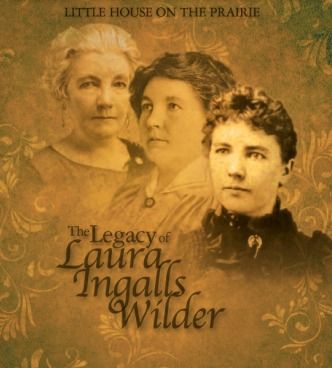 The Legacy of Laura Ingalls Wilder is a one hour documentary
of the life after Laura's stories as a child. It is the story of her life
as a mother, wife and writer. Dean Butler is the spokes person
for the dvd's and he gives a clear understanding of her life.
I learned so many things about Laura that I didn't
know. When I was a child as I mentioned before I read and
watched all things having to do with Laura. I didn't think there
was anything out there I didn't know. I was surprised to find
that I was wrong. I learned a new side of her that had not
been brought out in her books or the tv series. I learned of new
details of her childhood that were left out of the books. I
learned of her beginnings in more detail with Almanzo
and their struggles to begin their relationship. Yet their love seems
to have surpassed time in an untamable world. Soon they had
a child , which was portrayed in the tv series. She had more than
one child other than Rose. My heart broke for Laura to learn of the
sadness her and Almanzo must have felt when they lost their son.
I was surprised to learn of the struggles between her and her
daughter Rose but happy to find their relationship later growing
stronger.I have always looked at Laura as someone that I could look
up to. She had so much courage as a little girl to be a part of that
American upbringing when the land was so rough and ragged. So
many challenges to face and so many fears to handle. Life is that
way though even today we face challenges in our families .
It was just something about the knowledge of that time
period that draws me to her story.
How we used the dvd :
For the purposes of our review the kids and I sat down to watch the dvd.
We did no special study at this time. The younger kids didn't sit for
long before they were moving on. I think perhaps because we have not
yet read her books at their age. We may do them as read alouds this year.
The older kids were very curious and enjoyed the dvd. My honey
was half asleep as he works night work but later wanted to watch too.
It's a very interesting story.
How the dvd could be use:
I know there is a Little house curriculum on the market so I could see
using the dvd with that. For myself and our family I think we will
read the books as a read aloud and then do an author study on Laura.
We also might grab the dvd
Almanzo Wilder Life Before Laura
.
There is so much you can do with this and that time period that
I could write resources for you for weeks.
We recommend the dvd.
Warm Blessings,
Nikki
If you would like to read more reviews from Legacy Documentaries
click the graphic below.